Perfection.
The Cannon Falls Bombers volleyball team came as close as possible to perfection on their way to history this past weekend when they took home the program's first state championship in just their second state tournament appearance.
The Bombers swept all three of their opponents – Pipestone Area, No. 3-seeded Annandale and No. 1 seed Pequot Lakes – which means they did not drop a single set. A perfect 9-0. Hardly any of those nine sets were even close. The closest were a pair of 25-22 wins in the first round against Pipestone Area and only the final set against the Arrows truly tested Cannon Falls' nerve.
"Just utter amazement," head coach Melissa Huseth said about the achievement. "We came into this state tournament playing our best ball. We went 3-0 against three amazing teams and we asked the girls to play each point to the best of their ability and they did just that. Other teams would get a nice kill or maybe a nice serve on us, but not much, our serve-receive was fantastic. They'd maybe get a kill on us or a block every once in a while and the girls didn't let it rattle them. They just went to that next point and they played their best ball every single point."
During the post-match press conference, three of the Bombers' five seniors – Elle Lind, Grace Swanson and Rachael Miller – were still processing what happened.
"Honestly, surreal. It still doesn't feel real, that's all I can say," said Lind.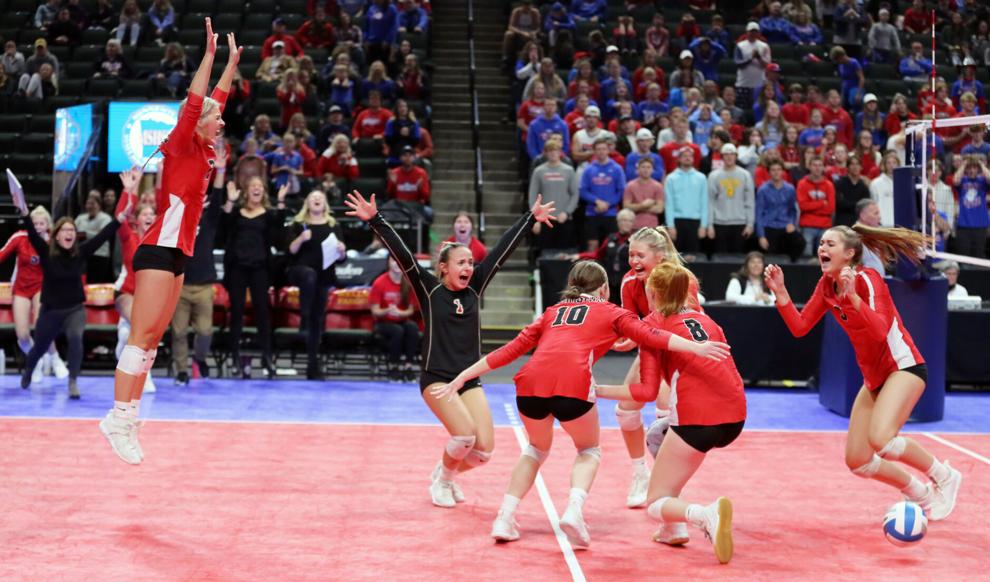 Making their mark
It has been a historic two years for the Bombers. Last year, they won their first section championship and made their first ever trip to the Xcel Energy Center and state tournament. They ended up taking sixth after a disappointing first match but gained valuable experience over the course of the three days.
This year they built on that achievement and reached the pinnacle of the sport. The team was a mix of players from last year's team, newcomers and those filling new roles. 
"My assistant coach said at the very end, 'girls, you put Cannon Falls on the map'," Huseth said. "I think that all these little girls that were here watching, our community that was there supporting us, they were looking at these girls and they want to be them someday. They did that, they led with not only their skills but with their integrity and their enthusiasm."
Cannon Falls has pushed back against the narrative that it was a rebuilding season, especially Huseth, though some players admitted the thought had occurred to them as well. However, all doubts disappeared from the minds of the coaches and players over the course of the season. 
"I just think that the team came together and grew all season. We just peaked at the right time. We started out our season with some new players on the court and we just needed that time to develop our team chemistry, to develop our trust and we did that," Huseth explained. "We worked hard in practice, they responded to one another, they spent time together and I just think that we're playing our best ball right now because we care about each other, truly care about each other and want what's best for each other."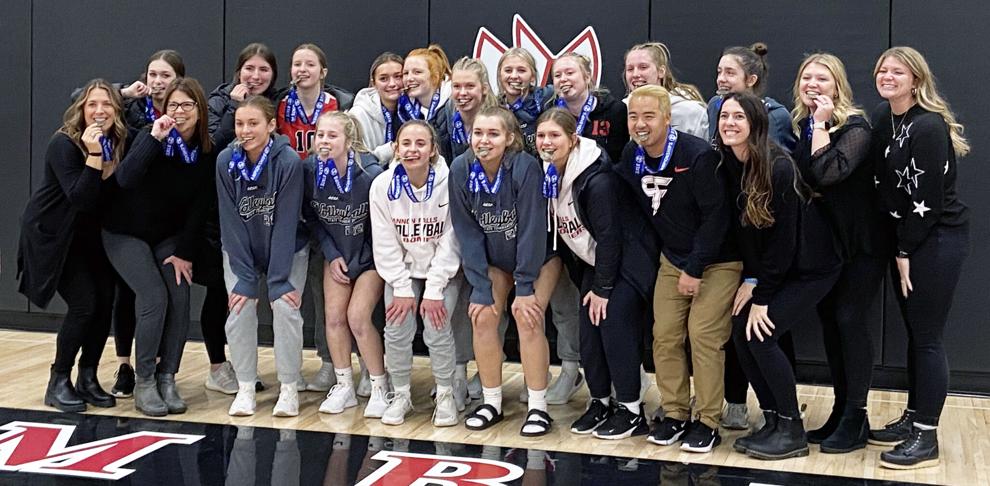 This year's senior class has achieved incredible things during their time, culminating in two straight state appearances and the state championship.
"It's great knowing that we were the class that did this because last year's class broke the seal of coming to the state tournament," Lind said. "And we finally, like coach said, put Cannon Falls on the map and got it done."
Each senior class lends a different personality to their team and this year was no different. 
"I think the senior class last year had been playing together for so long as a group, they kind of moved up through the program as a group. I'm not sure that happened so much with this senior group, but this senior group is really tight and they're great kids," Huseth said. "They want to see each other succeed. They have different roles on the team and they push each other to be their best player and their best person each day."
Graduating this spring are Lind, Swanson, Miller, senior libero Kyra Schoenfelder and Carly Tipton.
Leave no doubt
Cannon Falls started the match against the Pequot Lakes Patriots with a statement. They surged out to a 6-2 lead with a handful of emphatic blocks that set the tone for the entire match and seemed to get in the heads of the Patriots. While Pequot Lakes won the first point of the set, after the Bombers took a 2-1 lead they never trailed for the rest of the set. The second and third sets went much the same as Cannon Falls controlled both, nipping a comeback attempt during the third set in the bud to secure the championship.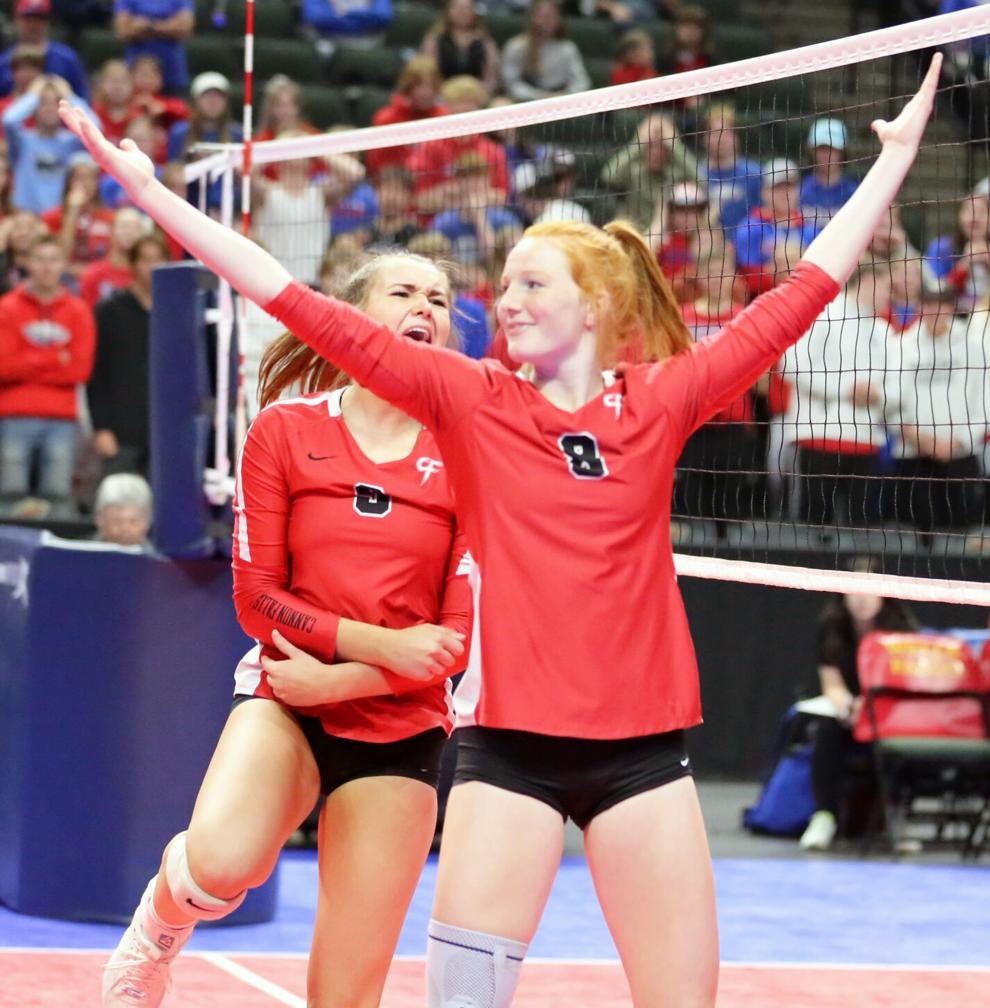 Pequot Lakes head coach Christine Ganley said after the match that she could tell the nerves got to her team. She said the Patriots made some uncharacteristic errors on offense and defense and were never quite able to settle in. In particular, Ganley said the early blocks by the Bombers caused her hitters to be tentative at the net. 
In contrast, Cannon Falls never appeared to be anything but collected. Miller said that has been the personality of the team this year. 
"Personally I think we're just a pretty steady team," she said. "No matter what situation we are put in, we're all kind of level-headed and we put that towards the game today."
"I know sometimes, at the very beginning some of us get nervous right away, but once we get out on the court and just play like we know how to play and communicate, our nerves go away and it's like any other game," Lind added.
Making the Patriots uncomfortable was Cannon Falls' game plan going in and Huseth said her team executed it very well.
"We spent a lot of time on serving. We talked about the fact that we need to serve aggressively and in. We had very few errors throughout this entire state tournament and we served aggressively to try and keep them out of system," she said. "And we passed really well, we were able to run our offense and like Elle said, our attackers were very smart. We wanted them to play some defense. We had to take their go-to hitters out and we tried to do that, we tried to make them play defense first so they couldn't just line up to attack the ball."
Cannon Falls' talent on offense has always been evident, led by junior outside hitter Madi Burr, who hit 1,000 kills in her career during the championship and earned All-State honors for the second year in a row. However, it was the Bombers' defense that propelled them to the championship.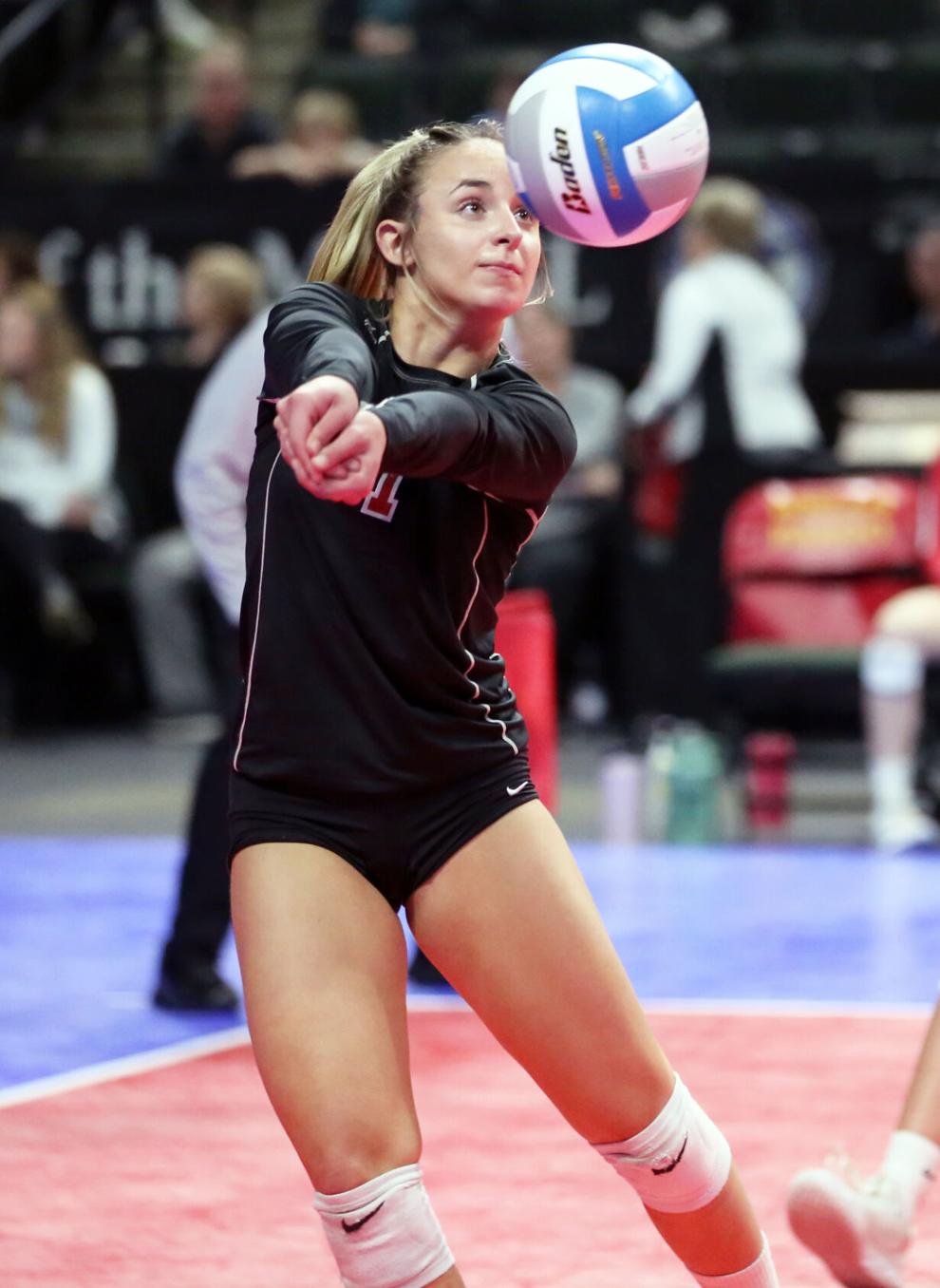 "I thought our defense was the highlight of this game," Miller said. "Everyone just wanted to go get the ball and were very scrappy."
Cannon Falls back row has been stellar all season through the efforts of Schoenfelder, sophomore Karsyn Winchell and junior Kallie Johnson. What has been a work in progress however, and really hit its stride during sections and state, was the Bombers' block. 
"I honestly just think, communication for one," Lind said about the fantastic performance by the Bomber block, led by her. "It's key in blocking, a lot of people don't think that, but just communicating when to go up, where to set up the block, talking before the hitter even hits is crucial. I also just think we realized to just trust each other and then just knew middles get over and close, your pins will have it set where you need to and I think that helped a lot."
"We knew going into this state tournament that we would be up against some quality teams and quality attacks and our blockers responded," Huseth added. "We knew that we needed them, even though our back court is very good, we needed them at the net and they did a great job."