The Cannon Falls Bomber football team had a record-breaking season, especially on offense, in 2022. The Bombers tied a program record with 10 wins this fall on their way to the Class AAA state quarterfinals after they went 10-2 overall, 7-1 in the regular season, 3-1 in the playoffs and 5-1 in the Southeast-Red subdistrict. 
However, they ultimately came up short of their goal of playing at U.S. Bank Stadium.
"We were among the top teams in the state again this year, and I think we have been for the last three or four years now, and we're just looking at getting over that final hurdle with getting to the Bank," head coach Dan Meyers said.
As a team, Cannon Falls set program records in rushing yards in a single game (Pine Island, 637); total yards in a single game (Pine Island, 645); rushing yards in a single season (5,060); total yards in a single season (5,359); points scored in a single game (Pine Island, 80); points scored in a season (573) and points scored per game (47.75).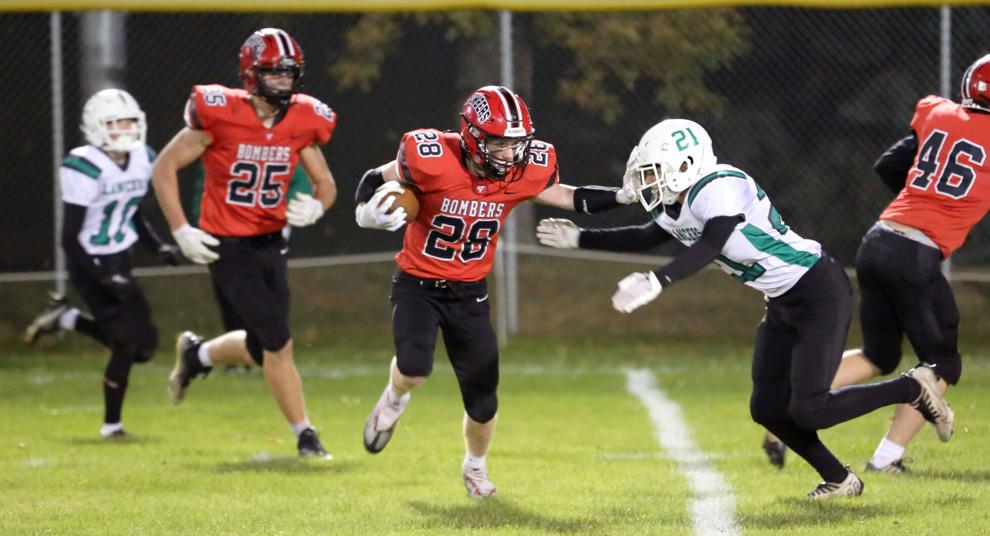 Individually, senior quarterback Colton Otto sits in 10th in program history with 12 rushing touchdowns this season and is ninth with 17 career rushing touchdowns. Junior Derrik Bechtholdt set the single-season rushing yards per attempt record with 13.35 per carry while junior Dylan Banks is fourth with 9.56, senior Logan Anderson-Rosebear is right behind him in fifth with a 9.5 average, Otto is seventh with a 8.99 and sophomore Preston Schoenfelder is ninth with a 8.29. Anderson-Rosebear is second in career average with 9.21 yards per carry and Otto sixth with 7.39. 
On defense, senior Colten Black set the single game record of tackles for loss with four against Zumbrota-Mazeppa, single season tackles for loss with 24 and career with 28. He had 12 sacks this season, which is second most in program history and his 12 career is third. Sophomore Jack Meyers had six interceptions this season, which is tied-for-fourth, and he has nine career interceptions so far which is tied-for-eighth.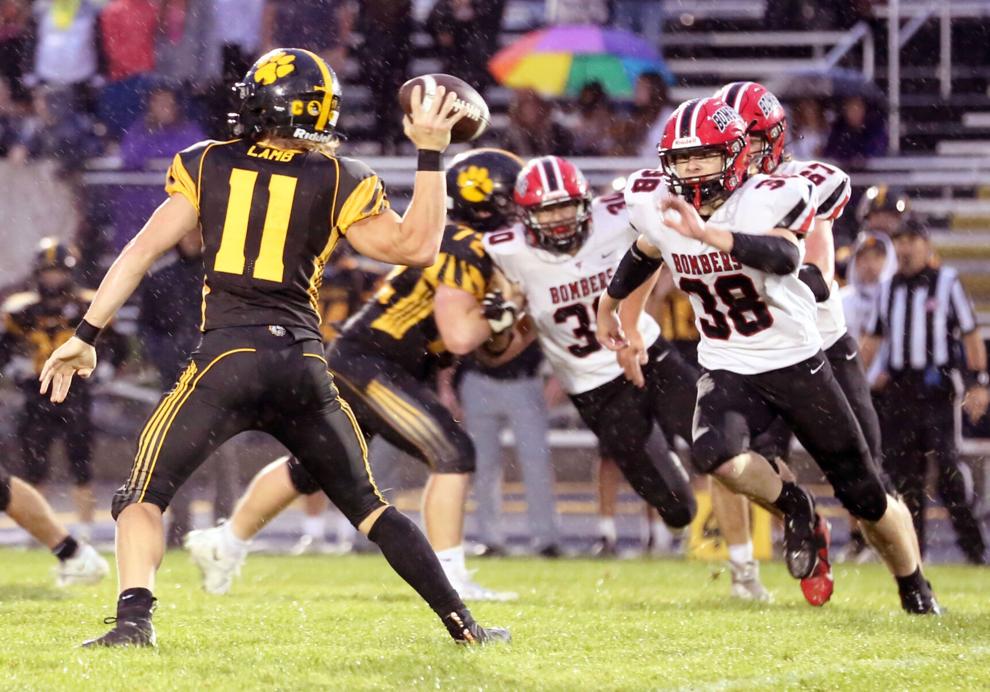 Meyers not only praised his running backs and quarterback but also said the team would not have accomplished what they did without their guys up front. 
"I give a ton of credit to those senior linemen that we had, those guys were just incredible players. Isaac Fehling, Drew Stachowksi, Willy Regenscheid and Elliot Nelson," he said. "Those guys were the backbone of our offense, we ended up rushing for 5,000 yards which was like 700 or 800 more than we ever had before. Scored roughly 47 points per game, which is also a school scoring record. Those guys were great all year and allowed us to do what we did."
The challenge heading into next season, Meyers said, would be replacing those guys up front. The Bombers have plenty of experienced rushers coming back in Banks, Shepersky and Schoenfelder, but it wil take some serious work in the weight room for next year's linemen. 
Meyers talked before the season about being more aggressive on defense, an embodiment of the team's "All Gas, No Brakes" motto. This bore out in some areas but not in others and is still a work in progress.
"We doubled our takeaways, doubled our sacks, points per game we didn't see as much of an improvement there as I might have hoped," he said. "I think we had some guys who really made a lot of plays. You look at Colten Black, who had 12 sacks, which is second-ever to Logan Hofstedt. We had him in the position of outside linebacker, we knew we were going to blitz a lot, and we wanted a guy there that can be super aggressive. I'd like to continue improving on defense, we gave up about 20 points a game, which is OK, not top notch.
Another area to improve, Meyers said, was on special teams, specifically kick coverage. The Bombers gave up quite a few big returns when they were trying to keep the ball away from the opponents' playmakers. This resulted in some short fields and was a part of them giving up more points than they would like. 
Despite all the accomplishments listed above, they were not what stuck out to Meyers about the season.
"These guys had some big shoes to fill coming off of a great season last year and a really good senior class," he said. "They just did a great job of developing as leaders and competitors. A couple of real signature wins, 10 wins in a season is tied for the most ever by a Cannon Falls team but to go down to Caledonia and beat those guys, and beat them pretty good and score a bunch of points on them was an awesome win. Then obviously the two wins against PEM, especially that section championship where we went down and really took it to them."
Anderson, Dylan Banks, Black, Otto, Regenscheid and Stachowski all were named All-District while Anderson-Rosebear, senior Jonathan Banks, Fehling and Shepersky were All-District honorable mention. Anderson, Anderson-Rosebear, Dylan Banks, Black, Fehling, Jack Meyers, Otto, Regenscheid, Shepersky and Stachowski were All-Section with junior Talan Duden and Nelson All-Section honorable mention.