The Region 5C preliminary tournament was played this past week to determine who the final four seeds for the finals tournament would be. There were four first-round games Wednesday night at teams' home fields before the tournament moved to John Burch Park in Cannon Falls and Red Wing Athletic Field. The winners of the tournament, the Hastings Hawks, earned the No. 5 seed while the team they beat in the championship, the Stewartville-Racine Sharks, got the No. 6 seed. The Austin Greyhounds and Dodge County Diamondbacks came out of the consolation bracket to get the No. 7 and 8 seeds respectively. 
Below are the full Region 5C preliminary tournament results:
Over the next two weekends, the eight remaining Region 5C teams will play a double-elimination tournament to determine the three teams that advance to the Class C State Tournament. The first round is Saturday, August 7, in Cannon Falls. Wanamingo is the top seed and will play No. 8 Dodge County at 10 a.m. Following that game, No. 4 Cannon Falls takes on the streaking No. 5 Hastings Hawks at 1 p.m. and the No. 2 Red Wing Aces faces No. 7 Austin at 4 p.m. The last game of the day is at 7 p.m. between No. 3 Rochester and No. 5 Stewartville.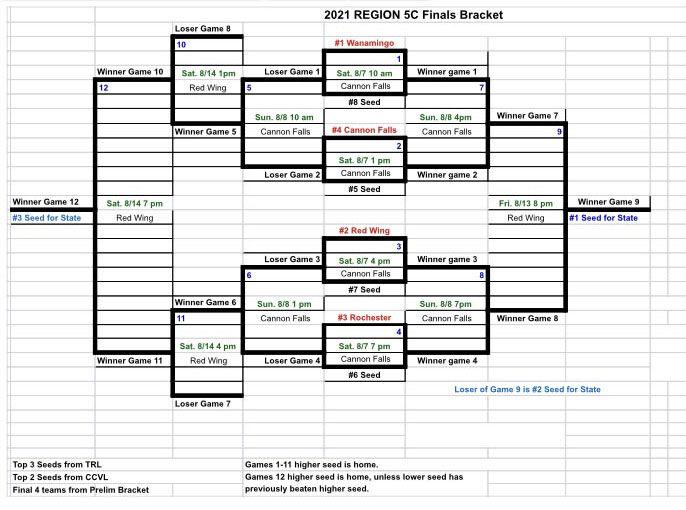 Sunday will be the championship semifinal and consolation quarterfinal games, once again all at John Burch Park. The championship game, with both teams moving on to the state tournament, is Friday, August 13, in Red Wing at 8 p.m. The remaining consolation games are all on Saturday, August 14, in Red Wing as well. 
Below are the preliminary tournament results:
First-Round
The Hastings Hawks beat the Pine Island Pioneers 13-3 in eight innings.

The Stewartville-Racine Sharks defeated the Owatonna Aces 7-3.

The Dodge County Diamondbacks were victorious over the Winona Chiefs 7-4.

The Austin Greyhounds beat the Lake City Serpents 5-3.
Championship Semifinals
Stewartville-Racine defeated Dodge County 4-2.

Hastings beat Austin 4-3. 
Consolation Quarterfinals
Winona beat Owatonna 2-0. Owatonna eliminated.

Lake City defeated Pine Island 9-0. Pine Island eliminated.
Championship Final
The Hastings Hawks beat the Stewartville-Racine Sharks 3-0. Hawks earned the No. 5 seed and Stewartville the No. 6.
Consolation Semifinals
The Austin Greyhounds beat the Winona Chiefs 6-3. Austin earns the No. 7 seed and Winona is eliminated. 

The Dodge County Diamondbacks eliminated the Lake City Serpents 7-5 and earned the No. 8 seed.