The Randolph American Legion Post 142 baseball team lost a back-and-forth game in Randolph to Zumbrota-Mazeppa Post 183 7-5 Friday evening. Zumbrota-Mazeppa took a 2-0 lead in the top of the third before Randolph responded with three runs in the bottom of the inning. The Rockets scored two more runs in the fourth to lead 5-2 but then Z-M scored in the fifth, sixth and seventh innings to get the come-from-behind win. With the loss, Randolph is now 4-2 overall after a delayed start to the season due to making the state tournament. 
Rising senior Mason Lorenzen started on the mound for the Rockets after throwing just four innings during the spring. Manager Braxton Lindow said he knew Lorenzen would throw strikes for them, but did not expect how efficient he would be. Lorenzen went the distance, all seven innings, and allowed seven runs (five earned) on eight hits and two walks with three strikeouts and a hit batter. He did all this in just 85 pitches.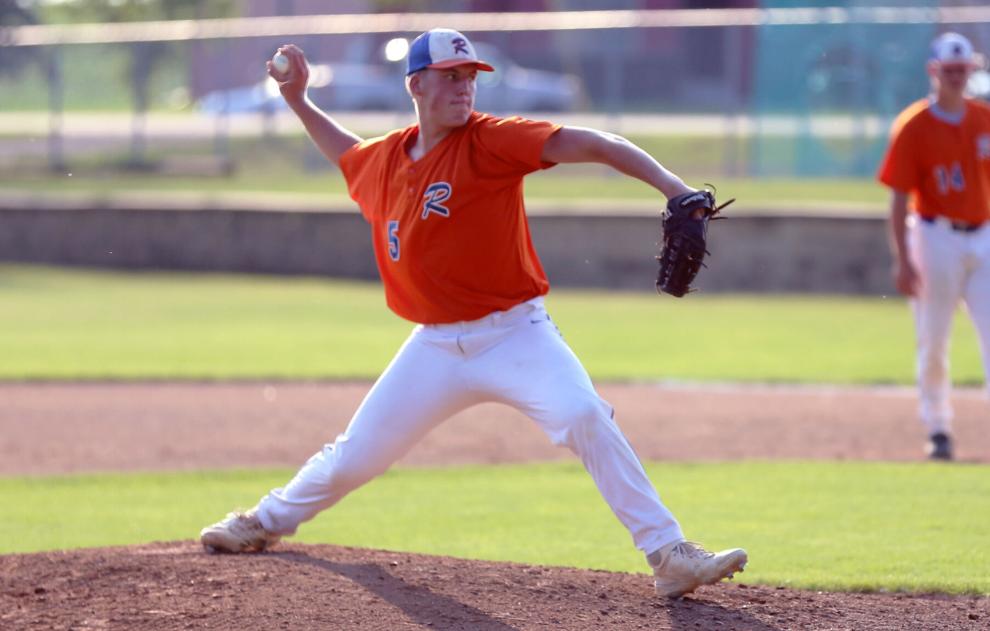 Connor Preston was the starter for Zumbrota-Mazeppa, which took a 2-0 lead in the top of the third. Mitchell Meyer led off with a single and then a handful of fielder's choices where Randolph just wasn't able to make the big play allowed him to score. Preston added an RBI groundout that brought in Tyson Liffrig. 
However, the Rockets responded with three runs of their own in the bottom half of the third from the heart of their batting order. Drew Jenkins hit a lead-off double, followed by a single by Jacob Weckop. With one out, Lorenzen helped himself with a three-run home run to left field to give Randolph a 3-2 lead. They scored two more runs in the bottom of the fourth after Brady Niebur walked, went to second on a passed ball and Collin Otto reached on an error. Run-scoring singles from Jenkins and Jacob Weckop then put the Rockets ahead 5-2 through four innings. 
Zumbrota-Mazeppa picked away at the Randolph lead starting in the top of the fifth. Liffrig walked and eventually scored on an error in the fifth to make it 5-3 Rockets. Luke Janssen hit an RBI-single and Mitchell Meyer added a two-RBI triple over the center-fielder's head in the sixth to take a 6-5 lead. One more run in the seventh as Preston scored on another Randolph error made it 7-5 Z-M and that was the final. 
Jenkins was on fire at the plate for the Rockets as he went 4-for-4 with an RBI, run scored, stolen base, three singles and a double. Jacob Weckop was 2-for-4 with an RBI and run scored while Lorenzen went 1-for-3 with the three-run home run. 
Mitchell Meyer was the only player for Z-M to have multiple hits as he went 2-for-4 with an RBI and run scored. Six other Z-M players had at least one hit. Preston pitched four innings and gave up five runs -- four earned- on six hits and a walk with five strikeouts for the no-decision. Caden Mercer threw three scoreless innings in relief to earn the win for the road team, only giving up a hit and two walks with three strikeouts. 
Randolph hosts a double header against Goodhue on Monday, July 5, and then goes to Tri Legion in Lonsdale on Tuesday. They travel to Cannon Falls to take on the Bombers in a double header on Thursday, July 8, at John Burch Park.