Expectations are high for the Randolph Rockets football team this season and those expectations come from within. 
"The seniors have some pretty lofty goals, they want a district championship, they want to make a run in the playoffs as well and have the opportunity to play for a state berth," said head coach Michael Schmidt. "The expectations are high from our seniors and I think our underclassmen are welcoming the challenge as well."
The Rockets are coming off of 2020's abbreviated season that featured plenty of distractions and an abrupt end. Randolph went 3-3 in six regular season games and beat Goodhue on the road 22-20 in the first round of the section 1A playoffs after losing to them at home six days earlier. They then fell to Blooming Prairie 49-6 in the section championship game as they scrambled to get the game in before Gov. Walz's shutdown of the fall sports season in November due to spikes in COVID-19  transmission.
However, being able to have a 2020 football season -- which was never a certainty -- setup Randolph for what could be a special season this fall. 
"Coming back from last year, we're returning a lot of starters who played as either sophomores or juniors and have that year of experience that we're excited about," Schmidt said. "Really between offseason work and another year of experience, we're pretty excited about what we have coming back this year. Biggest thing for us is this offseason has probably been our best as far as time in the weight room and speed development. We've seen it in our testing numbers and we're starting to see it on the field as well."
The Rockets return a solid mix of players on the offensive/defensive lines as well as at the skill positions, but will also see a few new starters on both sides of the ball after graduating seven seniors. It is some of those returners who have stood out to Schmidt so far through the first two weeks of practice and scrimmages.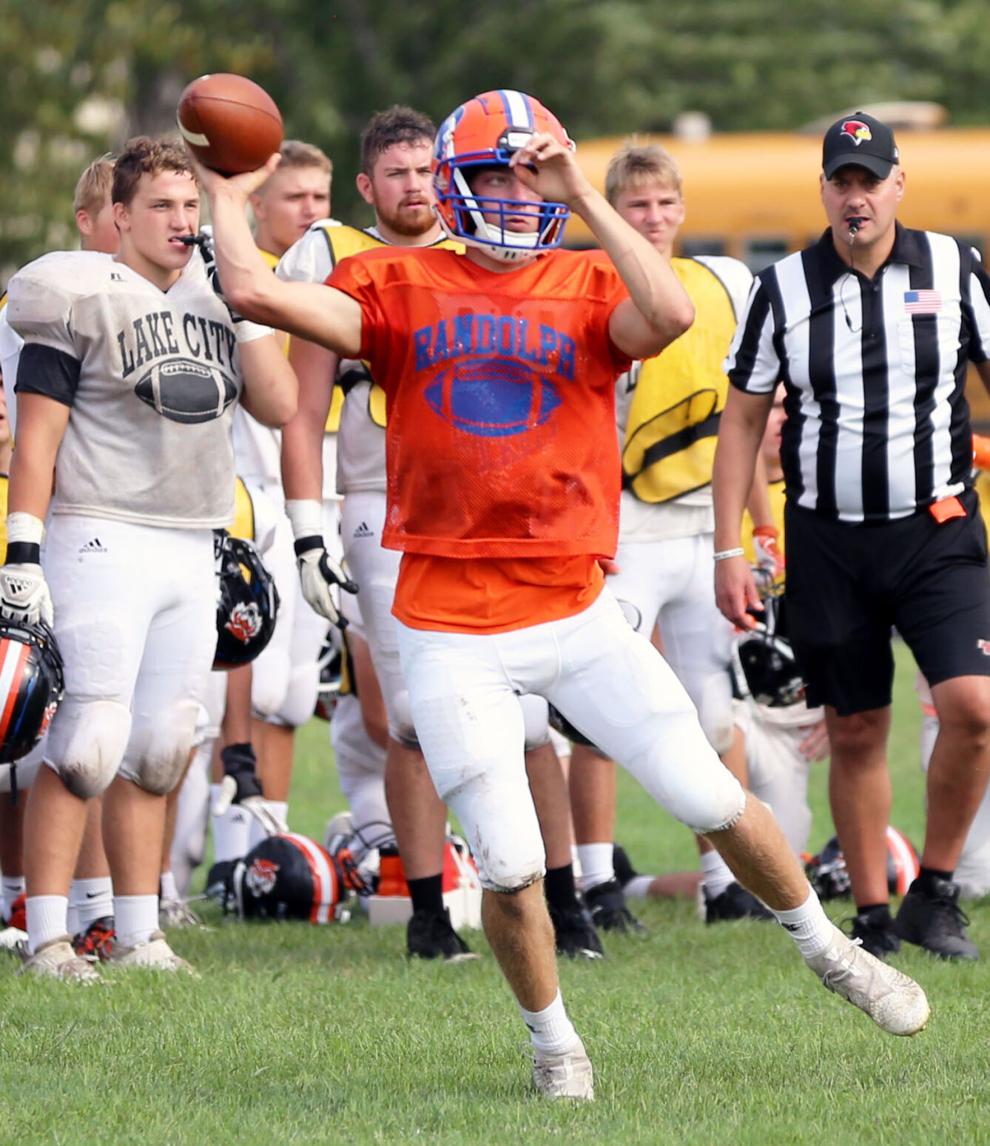 "Offensive tackle, and he'll be playing defensive end this year, Clay Nielsen is coming in as a four-year starter. He's had some looks at some colleges to play football at the next level. It's no surprise seeing him (standout) in the fall and during camp because he's always making plays," Schmidt explained. "Our quarterback, Jacob Weckop, has really stepped it up from last year. A lot of it is confidence, understanding the offense better, and we have a handful of younger guys who played last year, if not a ton. Tyson Cooreman is a name that I think you're going to hear a lot of, we'll line him up at running back, split him out at wide receiver, he plays inside linebacker for us, he'll be making a lot of plays for us on both sides of the ball too."
Due to being more experienced and having been able to attend their usual team camp in Mankato this summer, Schmidt said they are further along in general than they were at this point last year. The improvements over the course of the offseason has led to increased team speed and athleticism, which Schmidt says will be the team's strength this fall. Depth is a concern though.
"Where we're maybe weak will be just depth, a lot of freshmen, a lot of younger guys where one or two injuries could be an issue for us, but we like the guys we have out there," he said. "Biggest thing is getting our underclassmen some more reps. Like I said, we're an injury or two away from having to bring in some inexperience, getting those kids prepared if that's the case. We all know at some point this season, somebody is going to get hurt or somebody is going to be out for whatever reason, and having that depth to come in and fill those voids is what we need to get ready for."
As the Rockets' first game this Friday approaches, what should fans expect to see from the team?
"Our motto as a football program has been 'Bring the Wood' and we talk about playing with relentless effort, playing with a high level of energy and competing every play," Schmidt said. "So we hope they see a lot of that going on and we hope they see our guys having fun and playing with confidence."
Randolph opens the season on Friday, Sept. 3, at Waterville-Elysian-Morristown. The home opener is Friday, Sept. 10, against Wabasha-Kellogg.