Below are the Cannon Falls and Randolph sports results for the week of Dec. 13-18:
Tuesday, Dec. 14
Bombers girls basketball hosted the Lake City Tigers and lost 53-23 in a tough result for Cannon Falls.
Head coach Steven Strauss said that they did not rebound well and while the defense played well, they gave up too many second and third chance points. He also said that Lake City's Natalie Bremer continues to be a challenge.
Lake City led 34-11 at halftime with a more even second half. Bremer led all scorers with 23 points while Mahli Benjamin added 10 points for Lake City. Madison Burr led the Bombers with 6 points and Charli Duden had 4.
With the girls at home, the Cannon Falls boys traveled to Lake City and gave the Tigers everything they could handle before falling 69-65. The game featured 12 lead changes and seven ties. 
Cannon Falls led 31-25 at halftime. 
Aiden Johnson led Cannon Falls with 18 points and filled up the stat sheet with 8 rebounds and 7 assists. Jadan Winchell had 14 points including 4 of 7 from 3-point range. Noah Blanchard contributed 13 points while also going 4-for-7 on threes and Jacob Wulf added 12 points.
Hunter Lorenson led all scorers with 20 points, Carson Matzke had 15, Justin Wohlers added 14 and Ryan Heise contributed 12.
Cannon Falls wrestling competed in a dual on Tuesday at Kasson-Mantorville where they wrestled K-M and lost 60-15. The Bombers won two matches and received a forfeit at 113 pounds but also forfeited four weight classes.
Winning for the Bombers were Gavin Peterson at 120 pounds with a 6-4 decision over Aiden Friedrich and Preston Carlisle at 160 pounds by fall in 1:43 over Dominic Mann.
Randolph boys basketball played Christ's Household of Faith Tuesday and won in a blowout 85-61. No stats were available at the time of writing.
Thursday, Dec. 16
Bombers boys basketball was at Byron on Thursday where they lost 77-59. No stats were available at the time of writing. With the two losses during the week to Lake City and Byron, Cannon Falls is now 1-4 and has dropped four straight after beating La Crescent-Hokah in the season opener.
The Bombers host the Pine Island Panthers on Tuesday, Dec. 21, and then play in a holiday tournament at Grand Meadow Tuesday and Wednesday, Dec. 28-29. 
Cannon Falls wrestling hosted the Goodhue Wildcats on Thursday for the Bombers home opener and lost 42-32. For more details on the dual, check out the Bomber wrestling story in this week's sports section or online. Cannon Falls next wrestles Wednesday and Thursday, Dec. 29-30, at the Bi-State Classic in La Crosse, Wis.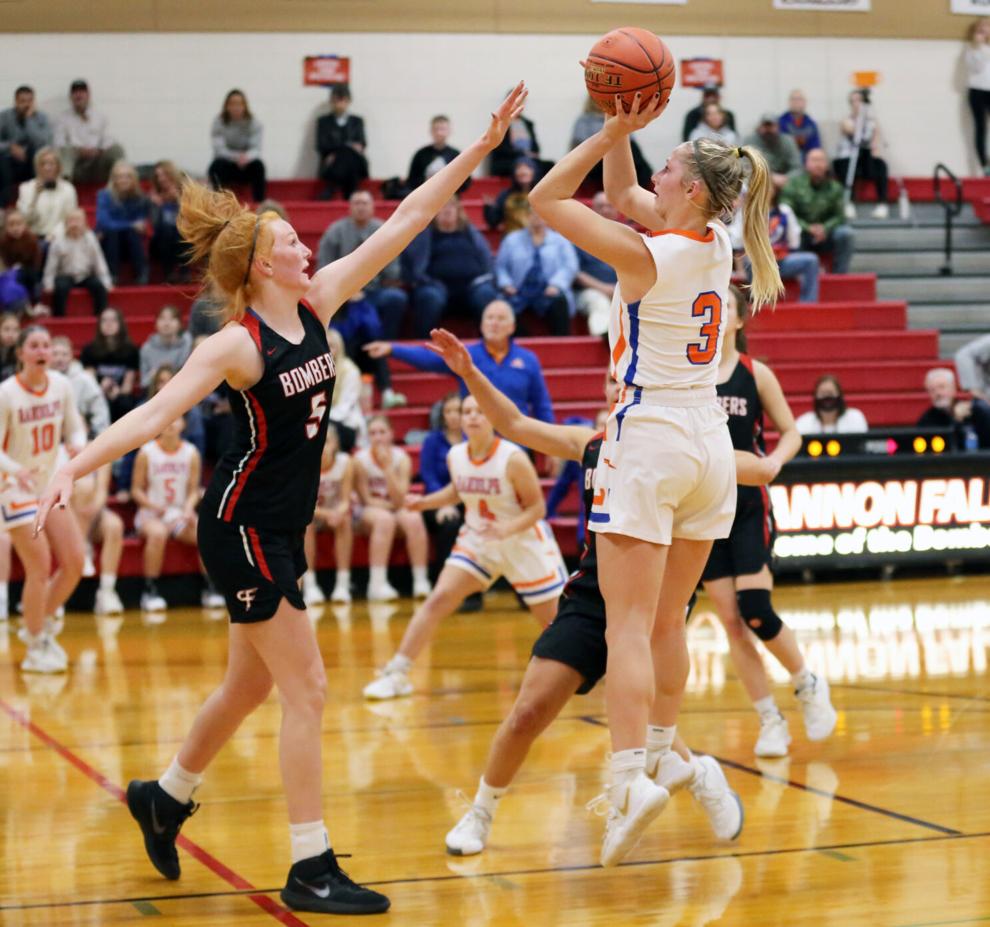 Randolph girls basketball faced United South Central at home and blew out the Rebels 61-30. The Rockets raced out to a 29-14 halftime lead and then doubled-up USC 32-16 in the second half.
Junior Anna Olsen led Randolph with 17 points along with seven rebounds and was 8 of 15 from the field. Fellow junior Paige Ford added 14 points while sophomore Emily Coonrod contributed 13 points and a near double-double with nine rebounds. 
Randolph is now 2-4 overall and travels to Waterville-Elysian-Morristown on Monday, Dec. 20, before hosting Triton on Tuesday, Dec. 21.
Rockets boys basketball traveled to United South Central while the girls played at home and fell to the Rebels 55-51. No stats were available at the time of writing.
The Rockets travel to Triton on Tuesday, Dec. 21, and are 2-3 on the season so far.
Friday, Dec. 17
Cannon Falls girls basketball welcomed the Byron Bears to Cannon Falls and lost 43-26.
"Byron is a really tough team that will be toward the top of the conference," said Bombers head coach Steven Strauss. "The girls played extremely hard and I'm proud of them."
Cannon Falls scored just nine first-half points and trailed by 14 at halftime. In the second half, the Bears outscored the Bombers 20-17 for the 43-26 final.
Senior Jaci Winchell led Cannon Falls with nine points, fellow senior Lauren Johnson added five and sophomore Madi Burr contributed four. 
The Bombers are 1-7 overall and have dropped six straight since their opening night win over Randolph. They travel to Pine Island on Tuesday, Dec. 21, and then don't play again until Jan. 6.