The Cannon Falls Bombers football team doubled-up the Plainview-Elgin-Millville (PEM) Bulldogs Friday night, 52-26, a battle of ranked, 5-1 teams which showed the Bombers are still a force in Class AAA.
The win for the Bombers sets up a titanic showdown Wednesday against the undefeated Lake City Tigers, which could decide who is the top seed in sections. 
Cannon Falls entered the game ranked No. 6 in Class AAA, while PEM was just three spots behind at No 9. The Bombers led the Bulldogs 24-13 at halftime but put the game away in the third quarter as Cannon Falls continued to punish teams following its loss to Chatfield on October 2.
Cannon Falls head coach Dan Meyers said they have adjusted since that loss, which proved to be a valuable lesson.
"A lot of little things, we've cleaned up a lot of little things since then," he said. "The Chatfield game, that was the most physical defense we've seen in a long time, so it was really good practice for us."
Bombers rolls past Bulldogs
Cannon Falls fell behind early as PEM scored just over a minute into the game. Bulldog quarterback Connor McGuire hit wide receiver Peyton Schumacher for a 67-yard passing touchdown on a go-route down the home sideline. They missed the extra point but led 6-0 just 65 seconds into the game.
Bombers junior quarterback Colton Otto was intercepted on Cannon Falls' first possession of the game, but PEM was not able to capitalize on it. They went 3-and-out and the Bombers responded with a 78-yard touchdown drive capped off by a 3-yard touchdown run by senior Riley Keenan. Keenan also ran in the 2-point conversion and Cannon Falls took an 8-6 lead with 3 minutes, 57 seconds left in the game. The Bombers lead for the rest of the game.
Another PEM 3-and-out led to Cannon Falls senior Carson Hammel breaking a 52-yard touchdown run up the middle, followed by another 2-point conversion by Keenan and the Bombers led 16-6 at the end of the first quarter.
The Bulldogs got another big play in the passing game to start the second quarter, this time 37-yards, and Hunter Tentis scored from 1 yard out. The extra point was good and PEM cut Cannon Falls' lead to 16-13 with 6:53 left in the first half. That is as close as the Bulldogs would get in what soon turned into a blowout.
Cannon Falls scored once more in the second quarter -- a 2-yard touchdown run to the corner of the end zone by Otto with the 2-point conversion by junior Kalahan Anderson -- and the Bombers led 24-13 at halftime.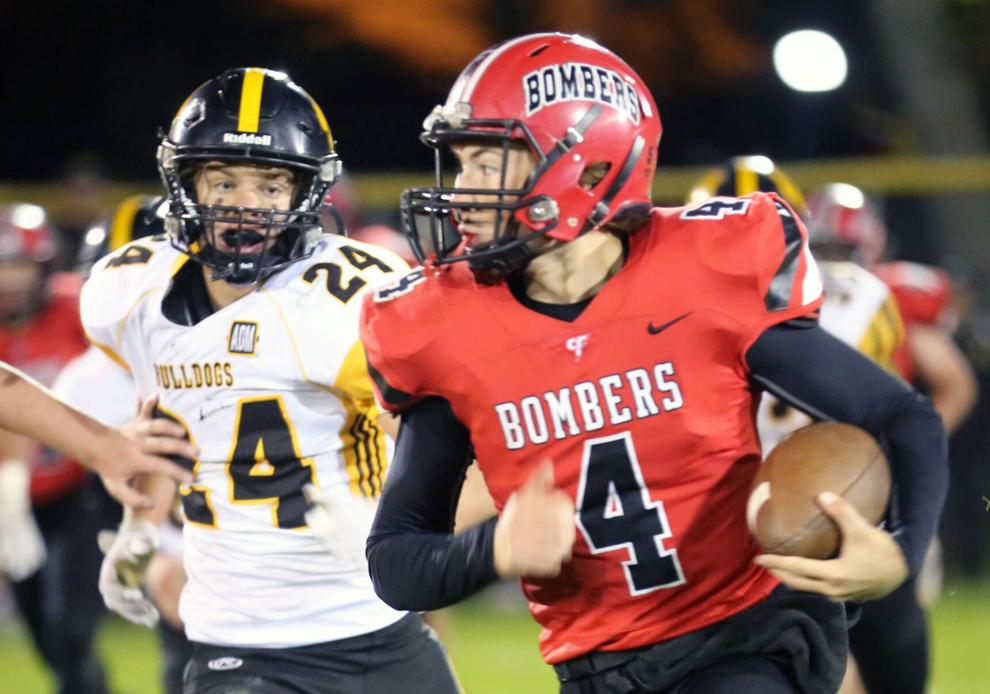 Plainview-Elgin-Millville scored first in the third quarter after Cannon Falls turned the ball over on downs. Tentis scored for the second time from 3 yards out but the 2-point conversion was no good, making it 24-19 Cannon Falls. The Bombers responded by scoring 21 unanswered points the rest of the quarter to put the game out of reach.
First was Hammel with an 11-yard touchdown rush (2-point conversion by Keenan), followed by Anderson with a 6-yard touchdown run just over 2 minutes later that was set up by an interception and 17-yard reception by senior Beau Zimmerman. At the end of the quarter, freshman Jack Meyers jumped a swing pass out to the flat and returned it 31 yards for a touchdown (extra point by senior Spencer Krinke). Cannon Falls led 45-19 at the end of the third quarter.
Cannon Falls extended its lead in the fourth quarter after Hammel had a 51-yard run and Otto scored on a 1-yard quarterback sneak. The Bombers led 52-19 until the final minutes of the game when the Cannon Falls reserves fumbled deep in their own territory and McGuire scored on a 1-yard run for the 52-26 final.

"Honestly everything, our linemen were just dogs in the trenches tonight," said senior Colton Loeschke about what went right for the Bombers. "We knew when to run our outside stuff and when they would bite on it."
Meyers said that it felt really good to put up that many points on a good team who had not allowed more than 14 points in a game all year. 
Otto completed 1 of 2 passes for 17 yards (the pass to Zimmerman) and an interception. Cannon Falls ran for 381 yards, led by Hammel with 177 yards and two touchdowns on 13 carries. Otto had his two touchdowns on three attempts for 29 yards. Loeschke added nine carries for 67 yards while Keenan ran the ball seven times for 35 yards and a score.
Section showdown in Lake City
The game in Lake City very well could end up deciding who receives the No. 1 seed in Section 1AAA between the Tigers, Bombers and Bulldogs.
"It's a huge game and we know what we can do. When we're playing like we do, it doesn't matter who we play. We're not intimidated at all," Meyers said. "They're ranked No. 1 in the state, we were ranked No. 1 in the state three weeks ago, so we know that we're close and that (the rankings) doesn't mean anything. They have to figure out a way to stop us."
The No. 1 priority for Cannon Falls will be slowing down Lake City's senior quarterback Justin Wohlers. Wohlers has completed over 70% of his passes so far this season with over 1,000 yards and 12 touchdowns while also running for over 400 yards and 9 touchdowns. He's exactly the type of player Cannon Falls had trouble stopping in its loss to Chatfield and quarterback/running back Sam Backer.
"Wohlers is a really great passer, he's probably the best passing quarterback I've seen in a long time," Meyers said. "So we have to have great coverage and we have to pressure him, not give him time to throw."