The movie "Remember the Titans" has a scene where the Titans are losing due to the game being fixed against them by the officials. After confronting the officials, coach Yost (played by Will Patton) fires up his defense telling them to not give up another yard, and yells to the rest of the team and head coach Herman Boone (Denzel Washington) to "leave no doubt!" The Titans go on to a regional championship victory.
Well that's exactly what the Cannon Falls Bombers football team did Wednesday night at Lake City. They "left no doubt" with a 74-38 stomping of the No. 1 team in Class AAA, the Lake City Tigers, while securing a Southeast-Red District Championship and the No. 1 seed in Section 1AAA (including a first-round bye).
Everyone expected a great game and most believed the game would be high scoring. In the preview of the game Republican Eagle sports editor Martin Schlegel and I did earlier this week, I brought up that the most interesting scenario would be if Cannon Falls went ahead by two scores or more. But there's no way I could have predicted what happened Wednesday night. 
The first half was a track meet. Both teams scored quickly with big plays and neither could gain an advantage over the other because each time one team scored, the other team responded. There were six lead changes in the first 19 minutes and change of game time. Cannon Falls and Lake City went back-and-forth with scoring plays until the Bombers led 32-30 with 4 minutes, 52 seconds left in the first half when the entire game changed.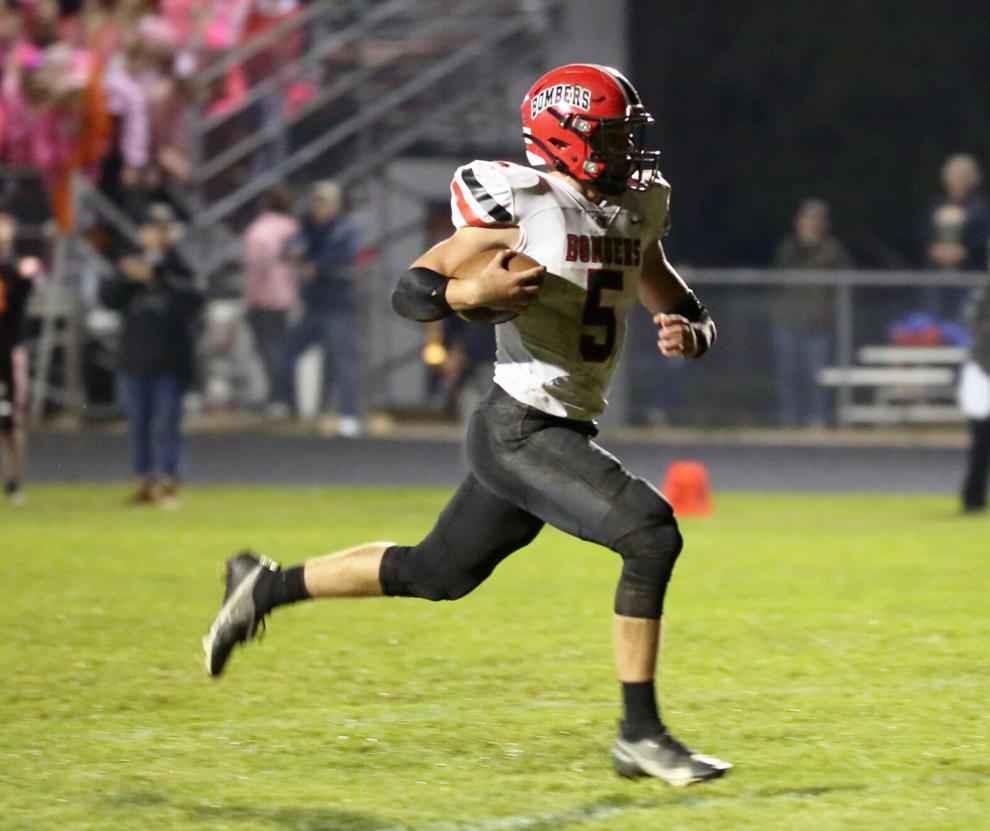 Cannon Falls executed a beautiful onside kick after taking the lead at this point and Lake City was caught off guard. Freshman Jack Meyers recovered the onside kick and had so much room, he was able to pick the ball up and run a few yards to the Tiger 47. Cannon Falls went on to score on a quarterback sneak by junior Colton Otto from 2 yards out -- setup by a 29-yard run from senior Colton Loeschke -- and the Bombers led 38-30 with 1:39 left in the half.
Momentum had shifted and Lake City was forced to punt for the second time in the half, but it was the first time the ball changed position not after a score (the Tigers had punted earlier but recovered a muffed fair catch by Cannon Falls). The Bombers took over at midfield and with 3 seconds left, Otto hit senior Riley Keenan with a bullet pass on a seam route down the middle and Keenan broke a pair of tackles for a 22-yard touchdown.
Cannon Falls had the first two-score lead of the game, 46-30, heading into halftime and the Bombers were set to receive at the start of the second half.
Lake City attempted an onside kick to start the second half but Cannon Falls recovered at midfield. The Bombers proceeded to drive down the field and junior Kalahan Anderson scored from 3 yards out, along with the 2-point conversion, to put Cannon Falls up 54-30 with 8:19 left in the third quarter.
Thirty straight points scored by Cannon Falls from the 7:49 mark of the second quarter to 8:19 left in the third quarter completely took the air out of Lake City's sails. They would answer that score from the Bombers with an 85-yard bomb from senior quarterback Justin Wohlers to senior Zach Dather. After getting the 2-point conversion to make it 54-38 with still 8 minutes left in the third quarter, the Tigers would not score the rest of the game. Anderson scored again in the third quarter to make it 60-34 at the end of the third quarter and Lake City put in its reserves early on in the fourth quarter.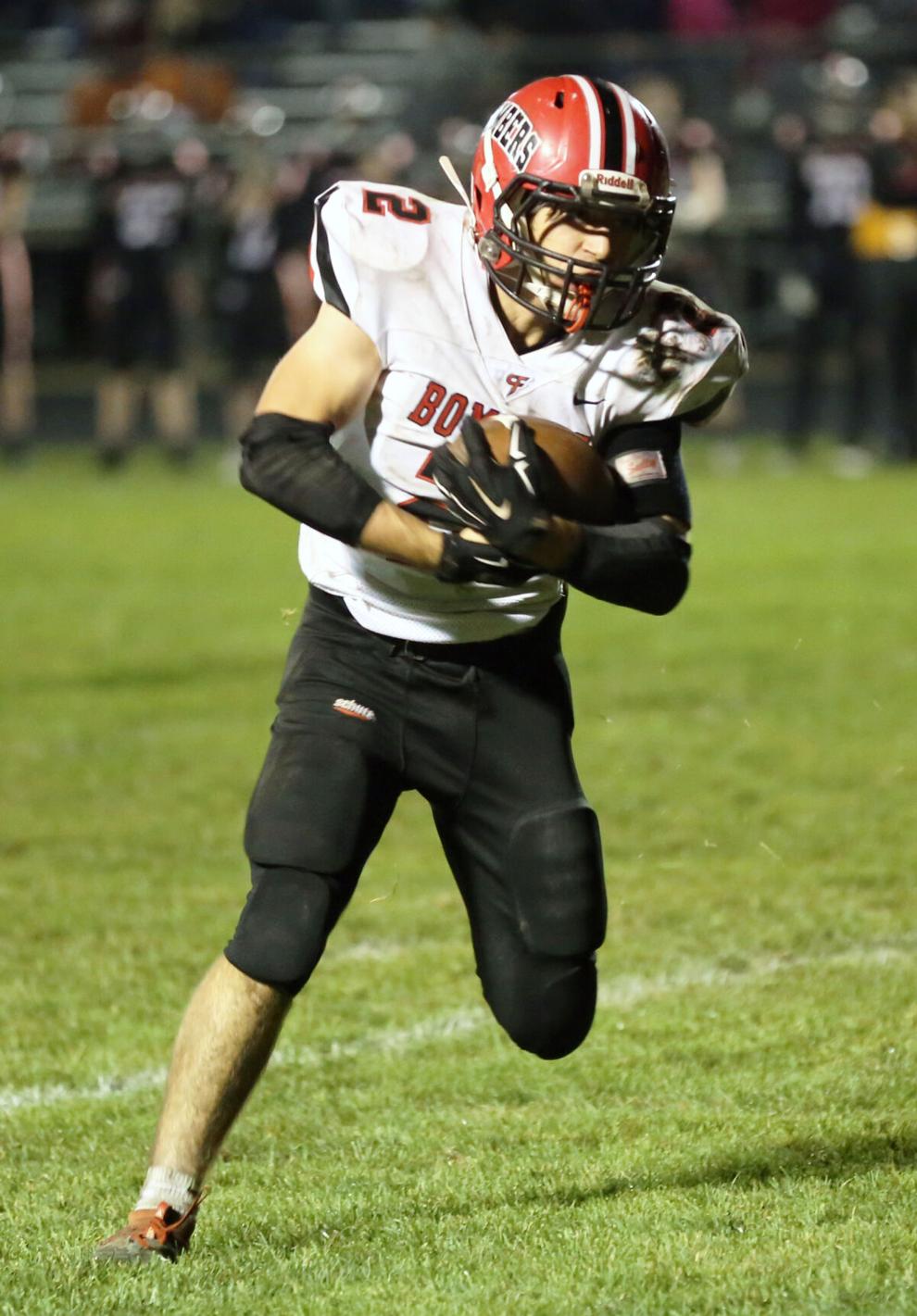 What started as a classic, back-and-forth shootout turned into a one-sided blowout that saw Cannon Falls score a school-record 74 points, rush for 533 yards and nine touchdowns and rack up a total of 568 yards and 10 touchdowns. 
"It was an absolute dog fight, coaches told us all week that it would be a tough game, one of the toughest we'd play all year," said senior running back Carson Hammel. "It came out in our favor, the boys were really laying it down on the field."
It takes a special type of mental toughness to be able to handle a shootout like what happened in the first half and still maintain the spirit and confidence to respond every single time, to not get dispirited by giving up so many points.
"We knew their offense was dangerous, we knew that (Wohlers) was really good and we kind of prepared our kids for that, (Lake City is) going to score points, and we're going to have to answer back every time," said Cannon Falls head coach Dan Meyers. "That's the way it went in the first half."
Hammel said the Bombers' coaches have preached all season about responding to adversity and they have faced their fair share through the regular season.
"Every time another team scores, we always say 'answer back', it doesn't matter if we're down by 30 or up by 30, coach says answer back, that's always the right thing to do," he said. "Obviously tonight we did that."
Opponents are not going to stop Lake City entirely -- they still managed 314 total yards and 296 passing -- but the Bombers helped themselves by limiting turnovers (they only had the one) and making Wohlers uncomfortable.
"We knew that we had to pressure him, we couldn't let him just sit back and pick us apart," Meyers said about Wohlers. "That was something we talked about all week, when we're pass-rushing, we at least gotta get him to throw the ball a half second earlier than he wanted to."
Statistically Wohlers still had a great game. He completed 11 of 21 passes for 269 yards and four touchdowns, but he also took plenty of hits and had to hurry several of his passes. The weakness of the Cannon Falls defense is still giving up big plays in the passing game, which Lake City exploited in the first half with touchdown passes of 25, 60 and 85 yards, but in the second half the Bombers defense did just enough to not give up the big plays and limited the Tigers to just a handful of possessions.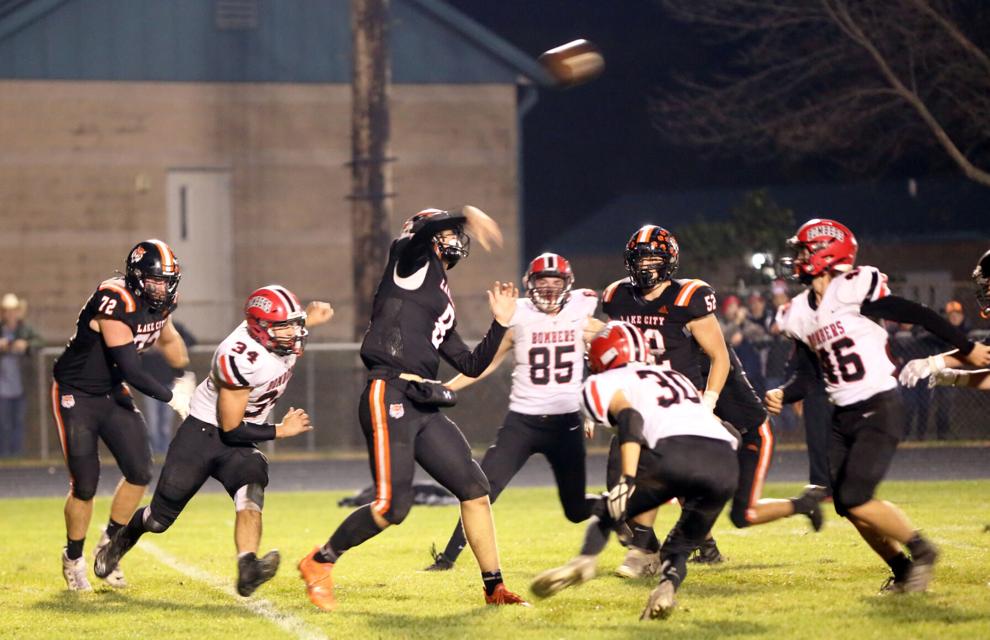 The Cannon Falls rushing attack was led by the three-headed monster of three seniors: Loeschke, Keenan and Hammel all ran for over 100 yards. Keenan led the team in carries with 14 for 173 yards and two touchdowns, followed by Loeschke who ran the ball 13 times for 144 yards and two scores and Hammel with 10 attempts for 110 yards and a touchdown. 
Anderson was efficient with four carries for 11 yards and two touchdowns while junior Jon Banks ran the ball nine times for 54 yards and a score. Otto had the other rushing touchdown on his QB sneak while completing 2 of 5 passes for 35 yards and touchdown. Keenan had the 22-yard touchdown reception and Loeschke added a reception for 13 yards. Senior Spencer Krinke was 2-for-2 on extra points.
Looking ahead, Cannon Falls will most likely, barring something weird happening, receive the No. 1 seed and a first-round bye. They will face the winner of the No. 4/No. 5 matchup on Saturday, Oct. 30, at John Burch Park. The section championship game is November 5.
"I'm sure we'll meet again in the playoffs," Meyers said about facing Lake City again, which would only happen in the section championship game. "They're gonna be ready and they'll learn things too, they might have some different ideas on how to stop our offense, different ideas on how to attack our defense. I think we take what we can learn from this one and just move on and be ready to face them again."