The Cannon Falls Bombers girls' tennis team started section playoffs competition early this week with team play for Section 1A. The Bombers earned the No. 2 seed out of eight teams and after a first-round bye, took on the No. 3 Lake City Tigers Monday morning at the Rochester Athletic Center. Cannon Falls won that match 5-2 to advance to the section championship where they took on top-seeded Rochester Lourdes. The Bombers lost to the Eagles 5-2 and finished as Section 1A runners-up. 
"This group has done a great job this year of working and getting better each day," said Cannon Falls head coach Paul Norstad. "The fact that we are in the section final is a great accomplishment for this group, they have worked hard and come a long way over the last two, three, four years to be able to be in this position again, playing to go to state."
Cannon Falls swept all four singles matches against Lake City. Hannah Hjellming won No. 1 singles 6-0, 6-0; Lauren Ritz took No. 2 singles 6-3, 6-0; Olivia Villarreal was victorious at No. 3 singles 6-1, 6-0 and Josie Sjoquist won No. 4 singles 6-1, 6-1. 
In doubles, the team of Morgan Kasa and Claire Dicke lost at No. 1 doubles 4-6, 6-1, (12-10). Allison Hughes and Kaytlyn Otte won No. 2 doubles 7-5, 6-4 and Kalee Anderson/Julia Reed fell at No. 3 singles 6-1, 6-1. 
"We did not want to overlook Lake City, but our goal was to get to the final today and the girls came out very strong and played really well," Norstad said about the semifinal win. "Lake City tried to strengthen their doubles line up in this match -- moving all their singles players to doubles. I thought our singles girls really set the tone for the match early, winning their matches with relative ease."
Norstad added that those four singles wins came in about 45 minutes, making a quick victory for the Bombers and taking the pressure off of the doubles matches.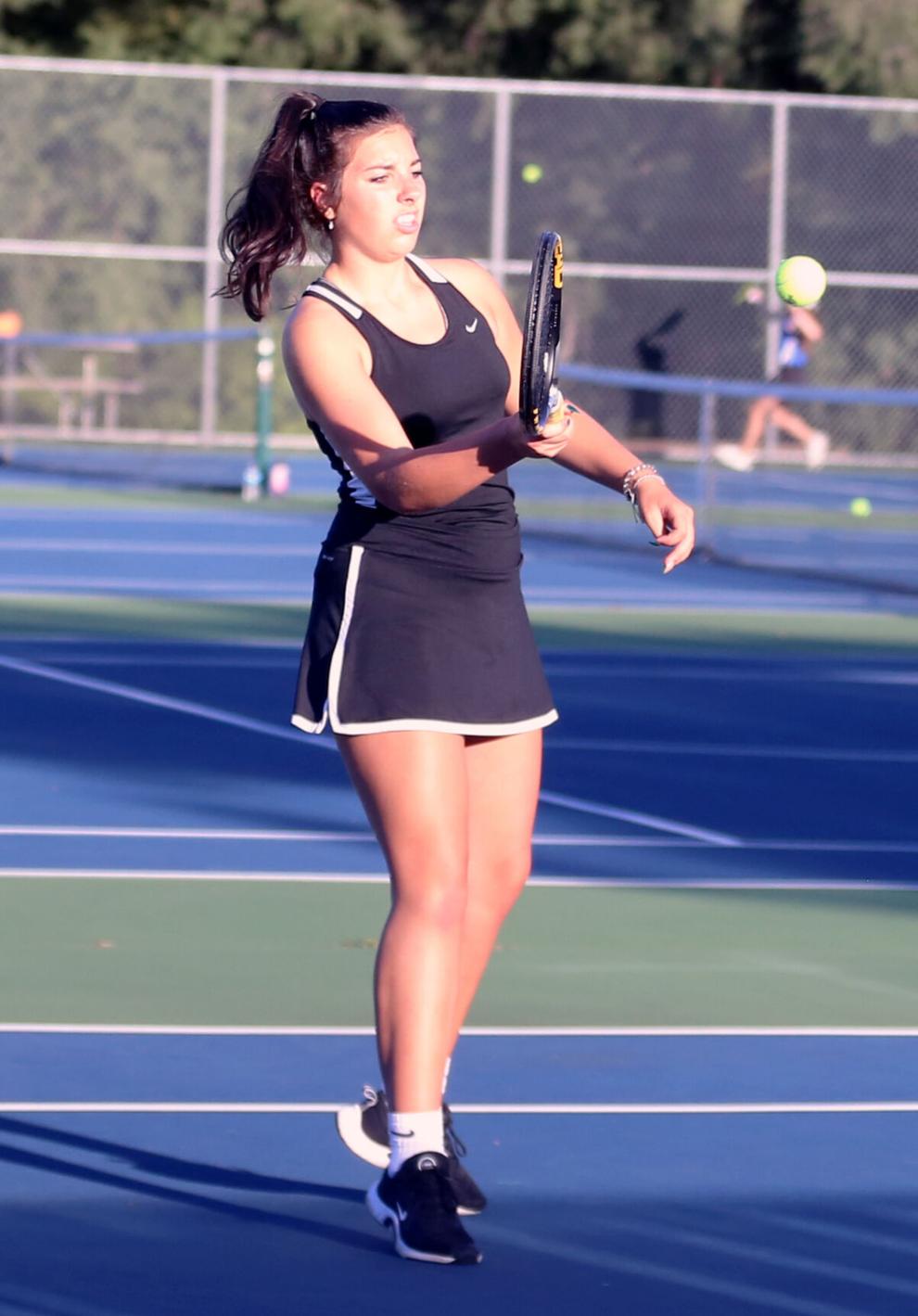 Against Lourdes, the script was flipped as Cannon Falls tried to switch things up, hoping for a different result. Norstad said that it was the first time for many of his girls playing inside, which was an advantage for Lourdes. He said it will be something that will need to be addressed in the future, getting the Bombers a little more exposure to the faster play indoors. 
Lourdes won all four singles matches. Kasa lost at No. 1 singles 6-0, 6-1; Dicke fell at No. 2 singles by the same score; Villarreal was swept at No. 3 singles 6-0, 6-0 and so was Sjoquist at No. 4 singles.
Hjellming and Ritz were moved to doubles and lost a close match at No. 1 doubles 6-3, 5-7, (11-9). The team of Hughes and Otte won No. 2 doubles 7-5, 6-1 and Anderson and Sophia Nerison took No. 3 doubles 6-3, 3-6, (10-8). 
"A tough one, but I thought the girls really gave it their all," Norstad said about the loss. "We were ready for this match, the girls had a lot of energy and were confident going into the match. ... Lourdes is a tough team. They have some very solid, good players. I thought overall we played well, we worked hard, but just could not pull it out."
Next up for Cannon Falls is individual sections Monday, Oct. 18, and Tuesday, Oct. 19, also at the Rochester Athletic Club. Two singles players -- determined by an intra-team playoff -- and the doubles teams of Hjellming/Ritz and Kasa/Dicke will compete.
Norstad said he believes they have a great shot at having several entries reach the semifinals on the second day, with the goal being all four and to send an entry on to state. The top two doubles teams and top two singles players move on to the state tournament, so making it to the section championship for each is the objective.