The Cannon Falls Bombers football team suffered its first loss of the season Saturday afternoon at John Burch Park with a 44-34 loss to the Chatfield Gophers. The Bombers were in the driver's seat in the first half and led 20-6 at halftime, but were outscored 38-14 in the second half as the defense just could not get stops. This comes on the heels of the Bombers climbing to the top spot of the Associated Press' Class 3A rankings this week and fueled speculation of an end of the season, No. 1 vs. No. 2 matchup with the Lake City Tigers.
With the loss, Cannon Falls is now 4-1 and 3-0 in the Southeast Red sub-district. They travel to 0-5 La Crescent-Hokah next Friday, Oct. 8. The Lancers lost to the Zumbrota-Mazeppa Cougars 20-0 on Friday. The following Friday, the Bombers host Plainview-Elgin-Millville (PEM), who is also 4-1 and ranked No. 8 in 3A. 
"Chatfield is a good team, we knew they were good coming in, we knew they were physical, so it wasn't a surprise to us at all," said Cannon Falls head coach Dan Meyers after the loss. "We played great in the first half, went up by a couple touchdowns at halftime, second half they (Chatfield) got real physical. Their running back, No. 1 (Sam Backer), got a lot of yardage after contact, he's a good player. They just came out on top today. Luckily this isn't the end of the season and we can use this to get better."
The first half went about as well as the Bombers could have hoped. Cannon Falls received to start the game and scored in under 2 minutes on a 29-yard touchdown pass from junior quarterback Colton Otto to senior running back Colton Loeschke. The extra point was no good and the Bombers led 6-0 just 1 minute, 34 seconds into the game.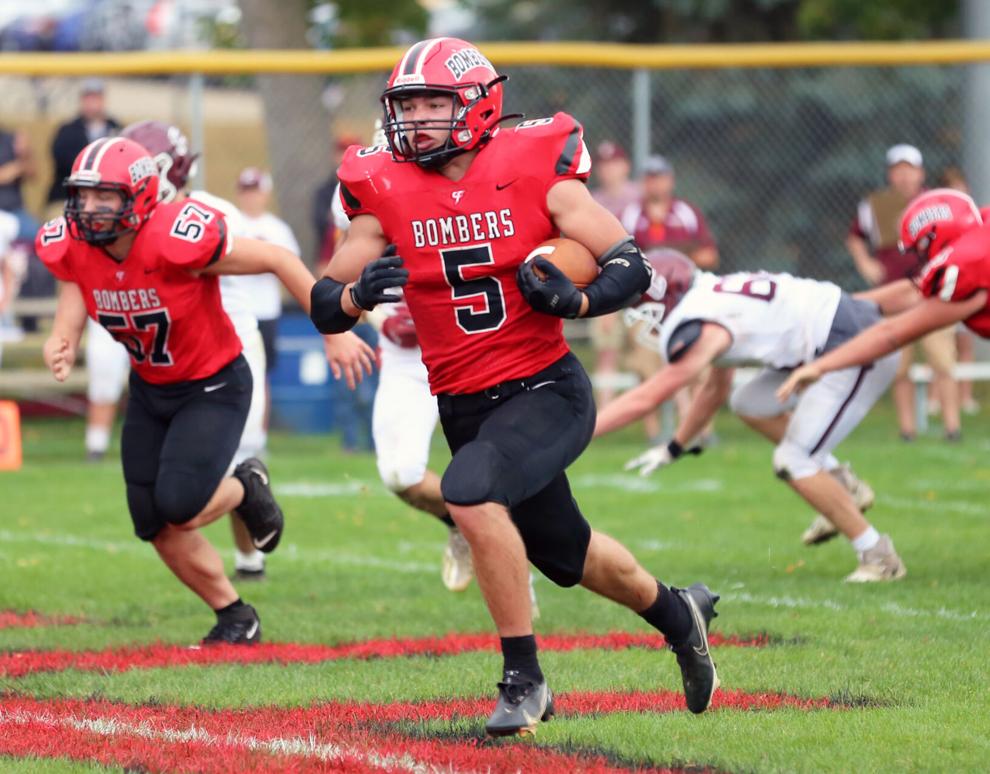 The two teams exchanged punts before the Gophers got on the board with a 53-yard touchdown pass from Sam Backer to Cole Johnson. The extra point was no good and the game was tied 6-6 at the end of the first quarter. Chatfield was in the middle of a drive when the quarter ended, but it was interrupted when freshman Jack Meyers came up with an interception at the Cannon Falls 39 yard-line. Loeschke then broke a 44-yard run and senior Riley Keenan scored from 2 yards out to make it 12-6 with 9:29 left in the first half. 
On Cannon Falls' next possession after forcing a punt, they put together a long scoring drive and senior Carson Hammel punched it in from 10 yards out with less than a minute left in the half. The 2-point conversion was good on a pass from Otto to Loeschke. With less than a minute left before halftime, Meyers came up with a second interception to stop a Gophers drive and at halftime it was 20-6 Bombers.
The second half was completely different from the first. While in the first half the Gophers struggled to stop the Bombers, it was the opposite in the final two quarters. On Chatfield's first drive of the second half, Backer broke a 72-yard touchdown run and the 2-point conversion was good to make it 20-14 Cannon Falls. However, the Bombers responded with a long scoring drive of their own, capped off by a 2-yard touchdown from Hammel. The 2-point conversion was no good and the Bombers re-extended their lead to 26-14 with 5:48 left in the third quarter.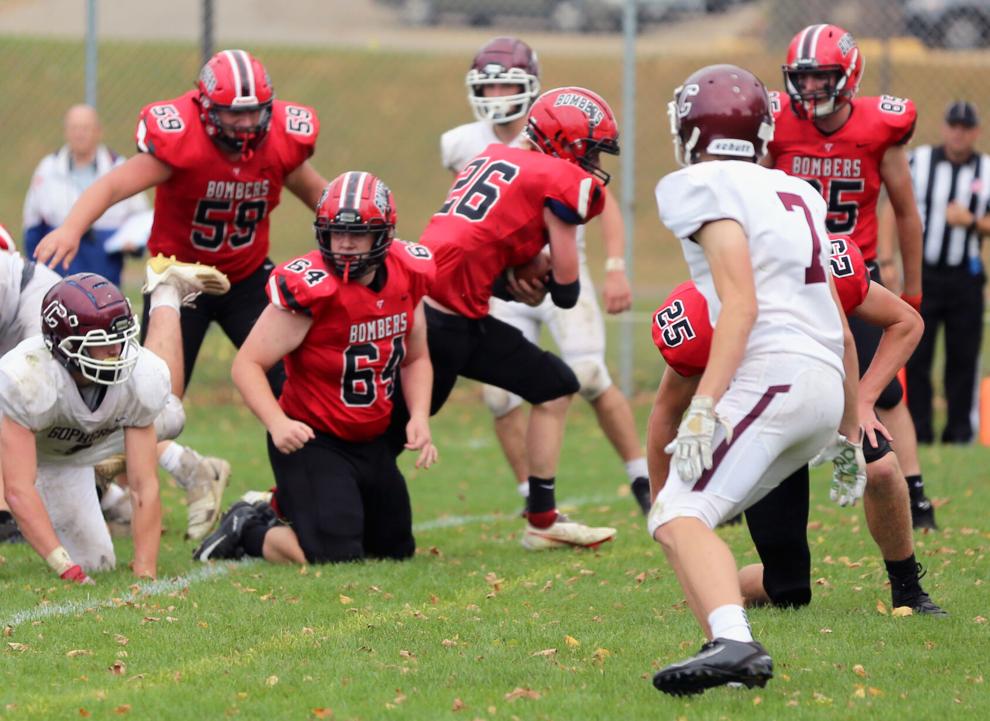 After a weird sequence on an onside kick by Cannon Falls, Chatfield started at their own 48 and had a 52-yard touchdown run called back due to holding. However, later in their drive they hit on an 18-yard touchdown pass along with the 2-point conversion by Backer to once again cut the Bomber lead to one score, 26-22 with 3:40 left in the first quarter. 
Backer got loose again for the Gophers on their next possession, this time a 45-yard run around the right end for a score. With the 2-point conversion Chatfield took their first lead of the game, 30-26, and the Bombers found themselves in trouble. 
That was the score at the end of the third quarter and Cannon Falls turned the ball over on downs at the Chatfield 48 on the first play of the fourth quarter. The Gophers drove down inside the Cannon Falls red zone and faced a 4th and 10 from the Bomber 24. Backer hit Johnson again, this time for a 24-yard score, and with the 2-point conversion went ahead 38-26 with just over 8 minutes left.
Credit to Cannon Falls, they never quit. The Bombers answered with a scoring drive of their own with a 5-yard touchdown run by Loeschke and 2-point conversion pass from Otto to Keenan to make it a 4-point game with 5:28 left. However, Cannon Falls could not get a stop and Backer scored again from 12 yards out to make it 44-34 with 2 minutes left. The Gophers later picked off Otto at the Chatfield 5 yard-line to end the game. 
The turning point in the game was Chatfield just having Backer run the ball from a Wildcat formation. Cannon Falls had no answer for him.
"Yeah they found some seams in there and we had a couple key injuries to guys on defense so we had some backups in there," he said about the success of Backer in the second half. "They did a good job, they had a good game plan against us, so we'll get into the film and find out what we can do better."
Cannon Falls had a good game offensively, rushing for 329 yards on 49 carries and passing for 70 yards. However, Chatfield matched that plus some with 319 yards rushing and 180 passing. 
"They were able to get the key first downs they needed when they needed them and kept our offense off the field in the second half," Meyers said. "We still moved the ball pretty well, obviously they're a good, physical football team and we know when we play a physical team it's going to be a dogfight like this and they came out on top today."
Meyers added that this loss broke a home winning streak for the Bombers dating back to 2018, when they lost to Caledonia 32-7 on Oct. 12, 2018. Cannon Falls had won 10 in a row.
Hammel led Cannon Falls in rushing with 17 carries for 156 yards and a touchdown, while Loeschke had 11 carries for 103 yards and two scores. Otto was 3-for-6 passing for 70 yards, a touchdown and an interception. Loeschke had his 1 catch for 29 yards and touchdown while Keenan added 2 receptions for 41 yards.
On defense, Meyers had Cannon Falls two turnovers with his interceptions. Junior Colten Black led the team with 12 total tackles while Otto had 2 tackles for loss. Junior Isaac Fehling forced a fumble but it was recovered by Chatfield.