Cannon Falls senior Spencer Krinke was the hero Friday night when he hit the game-winning, 34-yard field goal with just three seconds left to give the Bombers a 17-14 win over Rochester Lourdes. Both teams were able to run the ball well while slowing down their opponent's rushing attack just enough to keep them out of the end zone. The Bombers' two scores came on a pair of big plays by senior Beau Zimmerman and junior Colton Otto, while Lourdes cracked one long run for a touchdown and punched in another on the goal line. 
With the win, Cannon Falls is now 2-0 and will travel to Pine Island next Friday, Sept. 17. The Panthers are 1-1 and beat Zumbrota-Mazeppa 34-6 Friday night at Z-M.
"Both teams played good, physical football, and Lourdes did a great job of slowing down our rushing attack," said Cannon Falls head coach Dan Meyers. "I'm really proud of how hard the guys played. We broke off two big touchdown plays in the first half: a 44-yard touchdown pass to Beau Zimmerman, and a 41-yard run by quarterback Colton Otto. Defensive lineman Kendrick Otto was incredible on defense with 10 tackles."
Cannon Falls was the first to score when Otto hit Zimmerman for that 44-yard touchdown to give the Bombers a 6-0 (extra point failed) lead with 8 minutes, 34 seconds left in the first quarter. About five minutes later, Eagles' senior running back Seth Haight broke off a 24-yard touchdown run to tie the game. Then with 9:26 left in the second quarter, senior Lourdes running back Abraham Gapinski punched it in from 3 yards out and junior Eli Haight ran in the 2-point conversion to put Lourdes up 14-6.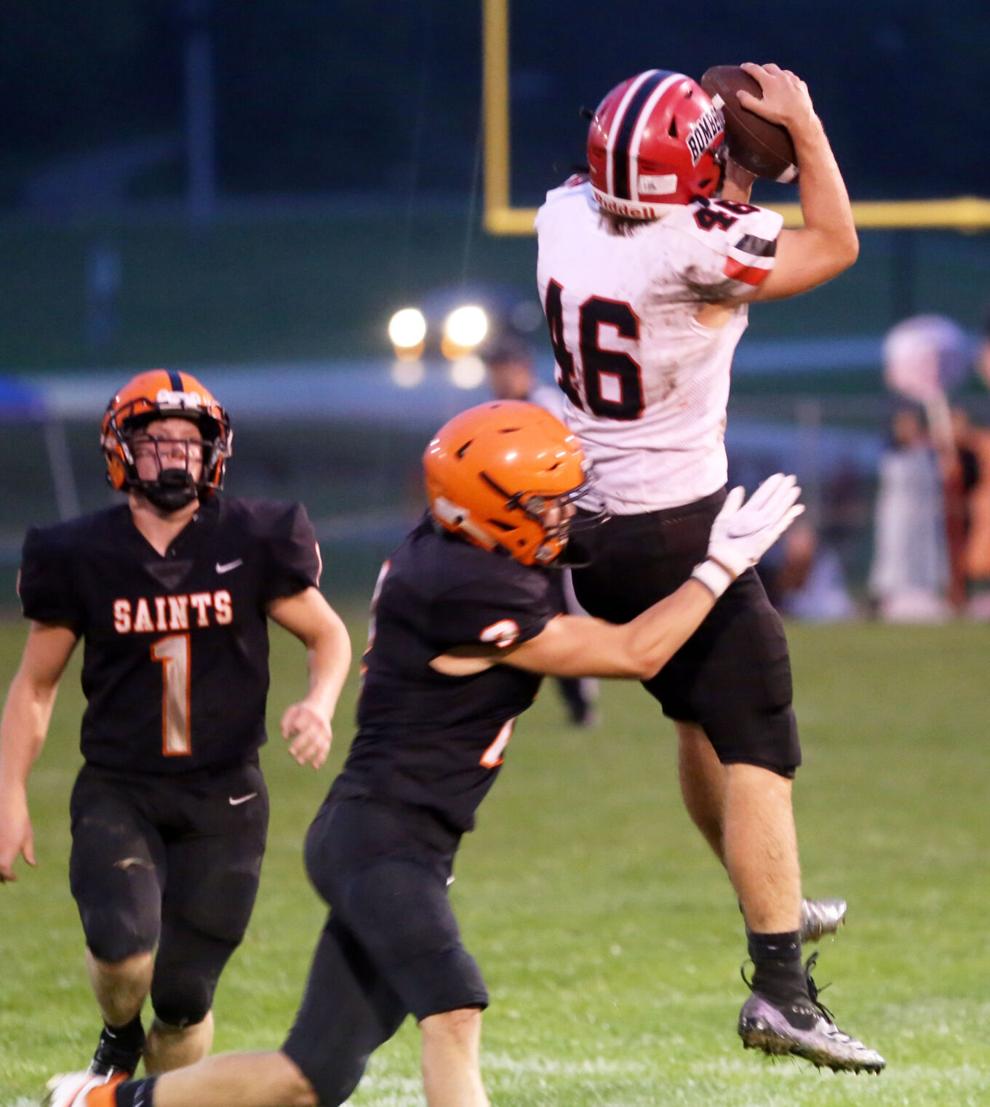 Cannon Falls responded at the end of the half with Otto's 41-yard touchdown rush and the 2-point conversion by junior Colten Black. It was 14-14 at halftime.
The entire second half was scoreless until Krinke's 34-yard field goal with three seconds left gave Cannon Falls the 17-14 victory.
The Bombers ran for 252 yards and passed for 81, the result being well over 300 yards of total offense. Rochester Lourdes ran for 189 yards and passed for 29.
Otto was 3-for-10 passing for 81 yards and a touchdown. His three completions came on Zimmerman's touchdown, a pass to senior Riley Keenan for 20 yards and another to Black for 17 yards. Senior Carson Hammel led the Bomber rushing attack with 19 attempts for 85 yards, senior Colton Loeschke carried the ball 14 times for 79 yards and Otto had 10 rushes for 57 yards.
On defense, senior Kendrick Otto had 10 tackles along with a tackle for loss and forced fumble. Junior Kalahan Anderson racked up eight total tackles and a fumble recovery, the lone turnover Cannon Falls forced during the game. Black and junior Jonathan Banks each contributed seven tackles apiece (Banks also had a forced fumble). Zimmerman had six tackles including two tackles for loss.