Thursday night saw the Cannon Falls football team fall just short of going to U.S. Bank Stadium yet again with a 34-30 loss to the Watertown-Mayer Royals in the Class AAA state quarterfinals. 
The Bombers held leads of 16 and 10 points at two different times during the game in Hastings but three turnovers and several big plays by the Royals proved to be the difference. 
"That was one of those games, it was just so close. We gave up some big plays, they made great plays, they stopped our offense when they needed to," said Cannon Falls head coach Dan Meyers. "We probably led for more of the game than they did, it's tough whenever you lose a close game because you can look back on a few things that happened and 'if only we would have just done that differently.' But that's the way it is and that's what makes it such an awesome game, football, every single play matters."
Oh so close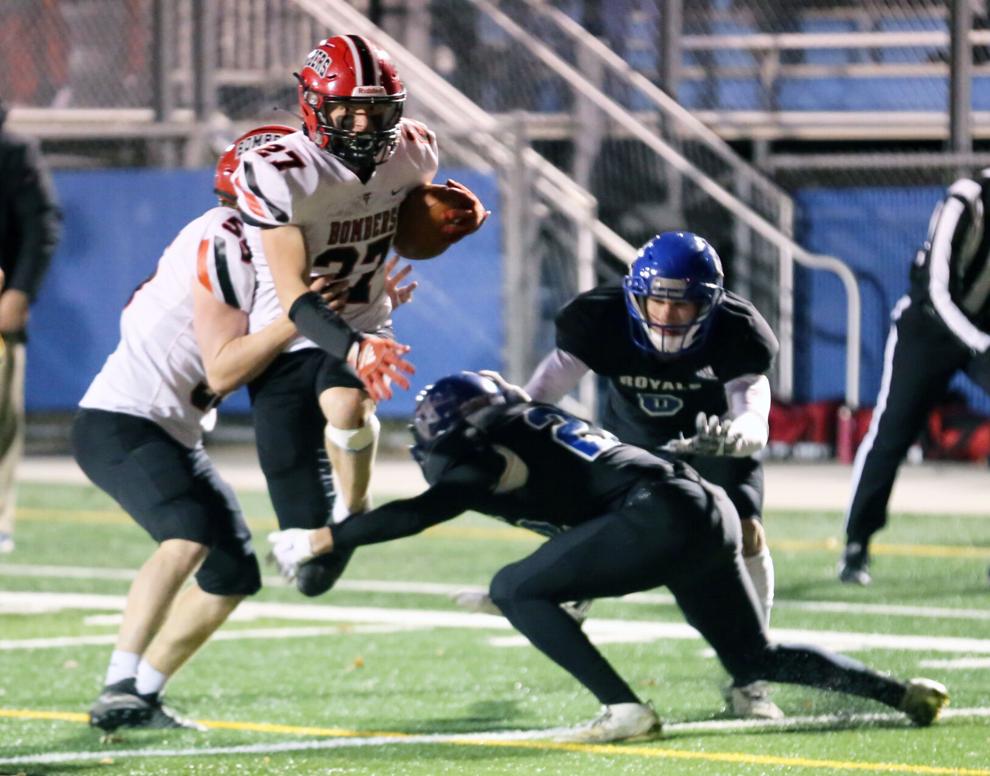 The Cannon Falls running game had plenty of success over the course of the game, but Watertown-Mayer had just enough on defense to stop the Bombers when it counted and forced three turnovers, including a fumble in the final minutes as Cannon Falls attempted a comeback down four. While the Bomber defense held the Royals to just 279 total yards, those turnovers led to two short field and two touchdowns for Watertown-Mayer. The Royals also completed two touchdown passes of more than 40 yards (49 and 51).
"We knew they had some really big guys up front on their d-line. We planned for that and they didn't surprise us, but they were big and physical," Meyers explained. "They had some really good players, I think 18 seniors and some really good players in there, they just slowed us down enough and kept us out of the end zone there and popped some big ones. They had some good athletes, their quarterback made some really good throws."
Cannon Falls ends its 2022 season with a 10-2 overall record, 5-1 in the Southeast-Red subdistrict and fourth section championship in five years. They will lose 12 seniors to graduation this spring, a senior class that won three section championships and battled through the pandemic.
"When we lost that section championship last year, these guys have been on a mission since that day, to just come back and win that section and go to state," Meyers said about this years' seniors. "Obviously we wanted to go further, we wanted to go to the Bank and that didn't happen, but these guys are one of the hardest working groups that we've ever had. Just extremely great leadership from all of these guys, it's so hard to see them play their last game."
Watertown-Meyer advances to the Class AAA semifinals at U.S. Bank Stadium, the home of the Minnesota Vikings, on Saturday, Nov. 19. They will face New London-Spicer, which beat Milaca 18-14 on Thursday. On the other side of the bracket, Fairmont takes on St. Croix Lutheran and Esko is against Dilworth-Glyndon-Felton. Both those games are being played tonight, Friday. 
"Hats off to them, that's a really good team," Meyers said about Watertown-Mayer. "It takes a good team to beat us, we haven't broken into the Bank yet, but we've been so close so many times. I'm just proud of these guys, year in and year out we've been one of the best teams in the state. It's hard to see these seniors go, but we'll be back to work and we'll be back here again someday."
Back and forth
Cannon Falls started the game off great and early on looked to outclass Watertown-Mayer. The Royals started with the ball and turned it over on downs at the Bomber 25. Cannon Falls responded with a scoring drive capped off by a 12-yard touchdown run by senior quarterback Colton Otto. Junior Sam Shepersky added the 2-point conversion and the Bombers led 8-0 with just under two minutes left in the first quarter.
Watertown-Mayer went 3-and-out on its next possession and Cannon Falls started the second quarter with the ball. The Bombers went up 16-0 on a 16-yard touchdown run by sophomore Preston Schfoenfelder with 9 minutes, 56 seconds left before halftime. He also added the 2-point conversion.
Momentum then flipped as Watertown-Mayer responded with a 49 yard touchdown pass to make it 16-6 after the missed extra point. On Cannon Falls' next possession, they fumbled and the Royals recovered at the Bomber 29 yard-line. Watertown-Mayer scored again, this time a 1-yard touchdown run, and added the extra point to cut it to 16-13 Cannon Falls. 
Cannon Falls turned the ball over for the second straight drive not long after as Otto was picked off on 3rd and 21 deep in Bomber territory that was returned to the 1 yard-line. Watertown-Mayer scored on a quarterback sneak and hit another extra point to take a 20-16 lead. Cannon Falls was able to drive down before halftime but could not score and it was 20-16 heading into half.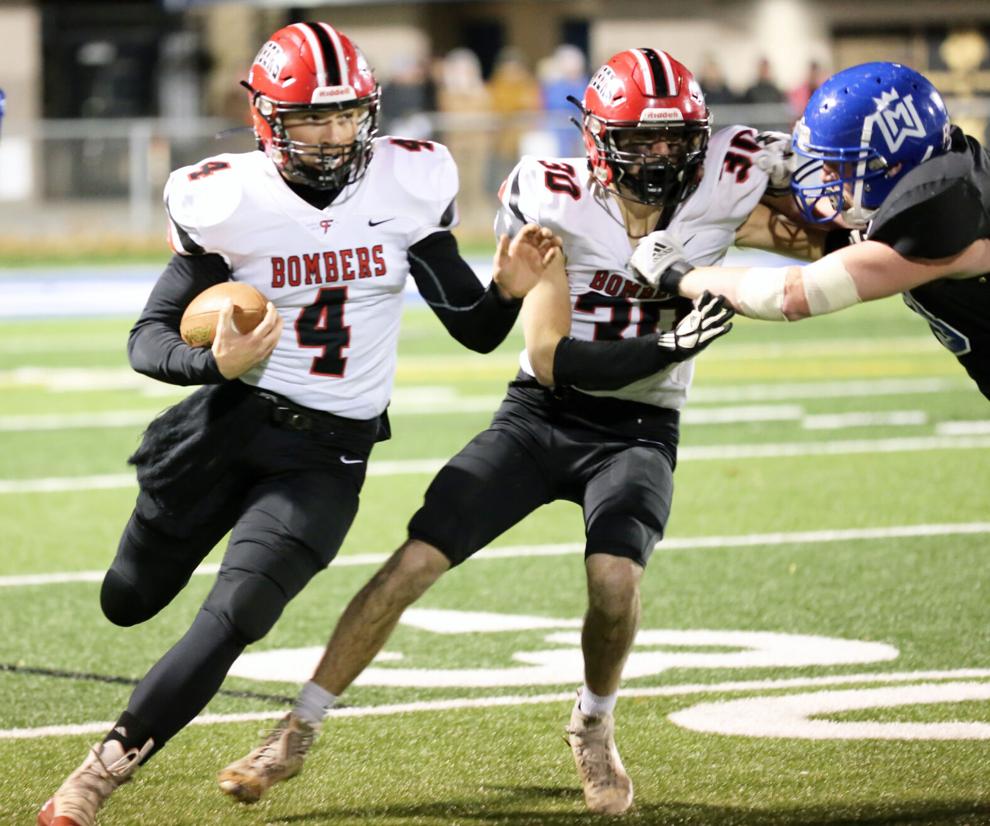 Both teams started the second half with 3-and-outs, while Watertown-Mayer tried a fake punt after theirs which failed and Cannon Falls took over at the Royal 33. Junior Dylan Banks helped the Bombers capitalize with a 15-yard touchdown run and Cannon Falls retook the lead 22-20.
The next Watertown-Mayer possession, junior Calvin Singewald came up with an interception for the Bombers on a throw over the middle and it was Bomber ball at their own 38. Cannon Falls scored again at the start of the fourth quarter after the interception, another touchdown by Banks, this time from 1 yard out and it was 30-20 Cannon Falls with 11:15 left in the game.
Once again, the Bombers held a double-digit lead, but it would not last long. After a five minute drive where the Royals converted on a pair of fourth downs, Watertown-Mayer scored on another 1-yard touchdown run to cut the Bomber lead to 30-27 with 5:59 left. 
Cannon Falls needed to then either run out the clock, score, or ideally both. However, it was not to be as a holding penalty put the Bombers behind the chains and they were forced to punt. It was a short punt and Watertown-Mayer took over at their own 49 yard-line with 2:25 left. On the first play, the Royals hit on a 51-yard touchdown pass to go ahead 34-30 with 2:16 left. 
The Bombers needed to go over 70 yards to win the game, but it was not to be as they fumbled on their second play and the Royals recovered. Watertown-Mayer was then able to run out the clock and 34-30 was the final.
Cannon Falls ran for 383 yards and four touchdowns on 54 carries, an average of over seven yards per rush. A lot of that came outside of the tackles as the Bombers attacked the edge away from Watertown-Mayer's imposing defensive line. 
Schoenfelder carried the ball 19 times for 111 yards and a touchdown, Otto added 11 carries for 59 yards and a score while Banks had eight attempts for 58 yards and a pair of touchdowns. Junior Derrik Bechtholdt ran the ball eight times for 52 yards. Cannon Falls did not complete a pass.
The Bomber defense held Watertown-Mayer to 152 yards passing and 127 on the ground. Most of those yards came from quarterback Albert Rundell, who scrambled several times for big chunks of yardage. Cannon Falls mostly bottled up the Royal running backs.
Seniors Jonathan Banks and Colten Black each had eight total tackles. Black had a pair of sacks with three total tackles for loss while Singewald had the lone Cannon Falls forced turnover with his interception.