There were plenty of rushing yards, touchdowns and points to go around Friday night when the Cannon Falls Bombers football team traveled to Pine Island. The Bombers romped Pine Island 57-21, ran for over 400 yards and held the Panthers to under 100 yards rushing and 300 total yards in the blowout.
With the win, Cannon Falls improves to 3-0 on the season and will host the Zumbrota-Mazeppa Cougars next Friday, Sept. 24, for the Bombers' homecoming. The Cougars are 0-3 and lost to Plainview-Elgin-Millville (PEM) 33-0 Friday night. 
Senior running back Carson Hammel had a career performance, carrying the ball 16 times for 154 yards and four touchdowns. Hammel and three other Bomber runners -- senior running backs Riley Keenan and Colton Loeschke along with junior quarterback Colton Otto -- each ran for over 50 yards in the win with Loeschke scoring twice and Keenan once. 
"The offense really got it rolling tonight," said Cannon Falls head coach Dan Meyers. "The line opened up huge holes for Carson Hammel, and he made the most of it with four rushing touchdowns. Pine Island was able to get some drives going and score, but every time we answered back with another touchdown."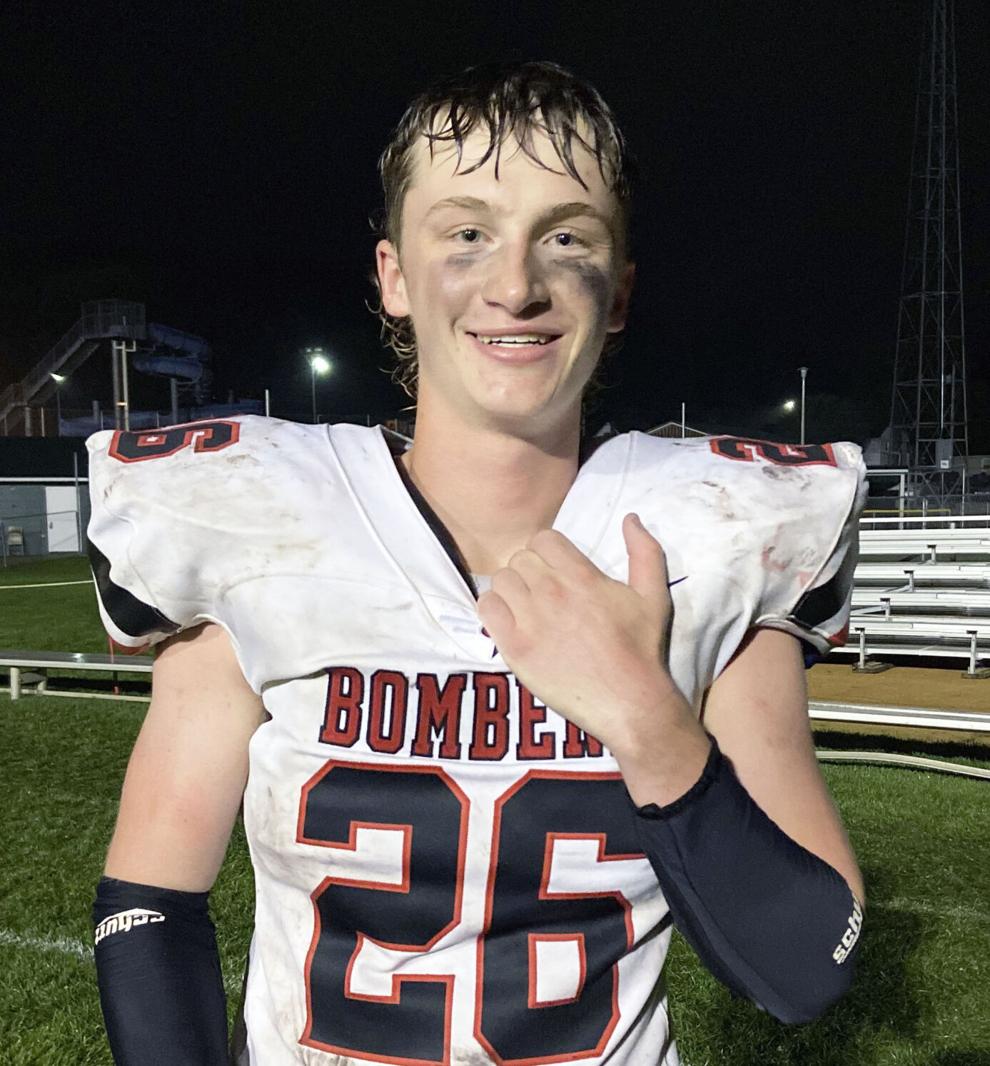 Cannon Falls ran out to a 15-0 lead in the first quarter when Loeschke scored from 7 yards out with 7 minutes, 39 seconds left in the first quarter and the 2-point conversion was good from Hammel. A few minutes later, Hammel scored on a 6-yard touchdown and senior Spencer Krinke hit the extra point with 4:09 left in the first quarter. Pine Island responded with a 43-yard touchdown pass at the end of the first quarter but the extra point was no good. Cannon Falls led 15-6 after the first quarter.
The Bombers answered the Panthers' touchdown with their own to start the second quarter. Loeschke scored a 4-yard touchdown and the 2-point conversion failed for a 21-6 lead with 9:19 left in the first half. Twenty-three seconds later, Pine Island scored with a 26-yard rushing touchdown and a 2-point conversion to cut the deficit to 21-14. However, Hammel then scored two touchdowns in the span of 3 minutes to extend Cannon Falls' lead. He ran for 3- and 11-yard touchdowns at the 3:45 and 1:06 marks in the second quarter with one extra point good and the other blocked to make it 34-14 at halftime.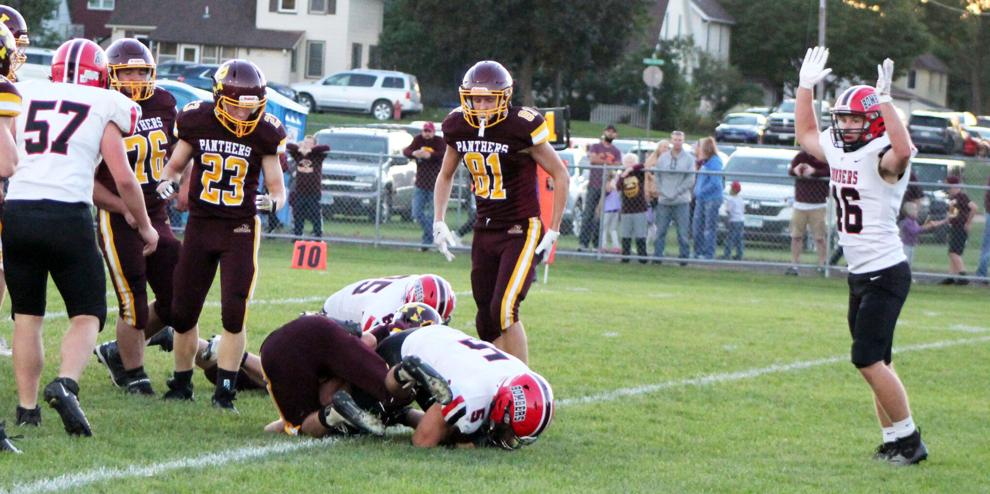 Pine Island scored on a 4-yard touchdown run midway through the third quarter and made the extra point for a 34-21 Bombers lead. After that, it was all Cannon Falls which scored three unanswered touchdowns for a 57-21 final. Hammel scored his fourth touchdown of the game with 4:41 left in the third quarter, Keenan scored from 13 yards out at the 9:12 mark of the fourth quarter and sophomore Jackson Eckstrom scored his first touchdown of the season on a 3-yard run with 5:29 left in the game. 
While the Bomber defense was not perfect, in a game where the opponent is playing from behind so much, it is still impressive to allow less than 300 total yards of offense. Meyers singled out a few defensive players for their performances.
"(Senior) Beau Zimmerman was outstanding on defense again, racking up nine tackles and (junior) Kal Anderson added three tackles for loss and a sack," he said. "Next week we hope to draw a big crowd to see us play Zumbrota-Mazeppa for homecoming."
Loeschke ran the ball 10 times for 57 yards while Otto added eight carries for 70 yards. Keenan ran it six times for 57 yards, junior Jon Banks had three carries for 25 yards and Ekstrom contributed two carries for 17 yards. Junior Colten back had three carries and fellow junior Logan Anderson-Rosebear ran the ball twice.
Otto needed to throw the ball just three times all game and completed two of those attempts, both to Banks for 33 yards. Krinke made four extra points and the Bombers were 4-for-5 on 2-point conversions. 
Zimmerman led the defense with his 9 tackles while Loeschke had 7 and Banks and sophomore Sam Shepersky both had 6 total tackles. Anderson had the lone sack plus his three tackles-for-loss (TFL) while Zimmerman added 2 TFLs and Loeschke 1. Senior Kendrick Otto forced a fumble and Zimmerman recovered it.