Maddie Becker was the lone senior on the Cannon Falls Bomber Dance Team this winter and helped the jazz team take sixth out of 12 teams at the Class A state jazz tournament. 
Becker dances year round for the Bombers and Shoreline Dance out of Red Wing. She said Shoreline helps her develop her technique for the school dance season while Bomber dance helps prepare her physically, especially in terms of her stamina, for studio competitions in the spring.
Becker was part of both the jazz and high kick teams for Cannon Falls as well as performing a solo this year. She was a member of the leadership team as a captain, a five-time letter winner and received Hiawatha Valley League All-Conference honors in both jazz and kick. Becker also was named All-State in jazz and academic All-State (seniors with a 3.8 GPA or higher). 
Below she talks about her senior season, being the lone senior, her leadership role and the jazz team's state tournament run. Becker plans on attending Minnesota State University-Mankato after graduation but has not decided whether she will dance for the Mavericks or not.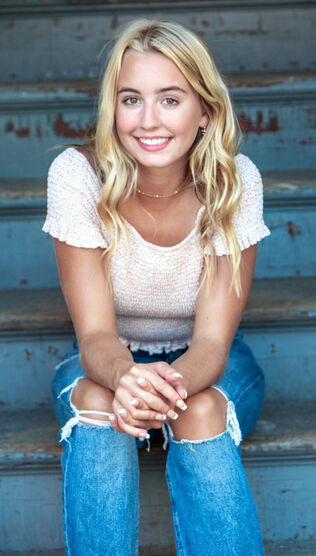 How long have you been dancing for?
I've been dancing since I was 2, so I've been dancing for 15 years I would say.
As you grew older, what drew you to dance?
What kept me in dance was definitely the people in it. All of my friends were in dance. What also kept me in dance was my sister (Anna Becker), she's kind of what got me into it. Watching her grow, I wanted to do the same thing as her, I joined the dance team because of her. 
What do you enjoy most about dance?
I think what I enjoy most about dance is performing, there's no other feeling like it. I absolutely love performing and I also love all the girls on the team as well, the friendships that I made from it.
How did your solo go this season?
It was really fun, I did the solo at the Preview Showcase and then at this big event called Miss Dance Team Minnesota. That was the reason for me doing a solo this year and it was just fun to do it at the Preview and competition. I also dance at a dance studio and one of my teachers there actually made up the solo and I was able to perform it.
What studio do you dance for?
I dance for Shoreline Dance in Red Wing.
Were you a part of both kick and jazz this year? Do you prefer one over the other?
I was, yeah. I'm definitely a jazz girl, I didn't even want to do kick when I first joined the team. Jaime highly encouraged me to do it, I was never super into kick but I definitely grew fond of it over the years.\
How was being the lone senior this year?
It was definitely a learning experience, trying to learn how to lead the team. I had a lot of help from the only junior on the team, Morgan Brandel, we worked together to lead the team. I never really saw myself as a leader before this year, so it was really hard for me to step into the position. Last year there were six seniors so I kind of felt like I had to fill all six of those spots. I really relied on Morgan a lot to help lead the team.
What were your goals for the team heading into this season?
I wanted to make it to state for jazz, period, and once we reached that goal I really wanted to make finals because the jazz team I feel like has been overlooked a lot. Not the past three years, but before that we were definitely more of a kick team than jazz. Recently, it has been shaped into a jazz team as well, so making finals is just such a huge accomplishment. Especially for us in jazz because last year we made finals for the first time since 2013 in jazz and getting to do it again was definitely my biggest goal and I was really happy that we achieved that. 
Did making both state and the finals this year feel different than years past with you being a senior?
It was really bittersweet, I was obviously really excited but once you make finals you for sure know that's your last time dancing. There's sections, what if this is my last time dancing, then at state prelims, this could also be my last time dancing. But then you reach finals and you know this is my last time dancing. I could not sleep for the whole week of sections, I was so nervous, and then prelims and going to awards, it's extremely nerve-racking for sure.
Do you think the jazz team danced its best at the state tournament?
We had been really working hard on our turns and really working on putting style into the dance and I think it really all paid off on the state floor. All of our turns hit and everything kind of came together on the state floor.
It was a super young team, it was a lot of the girls' first time performing at the Target Center, what did you tell them in preparation?
I told them, just treat it like a normal competition even though it isn't. I feel like when you're younger, a lot of girls let the nerves get to their head, they're overthinking and they're so nervous that they don't dance like they normally do. So I kind of prepared them to be like it's just a mental game, you just have to think of it as a normal competition, don't really think about the state part of it. I think they all definitely rose to the occasion, and all did amazing.