This week's Cannon Falls Beacon Yesteryear column:
15 years ago – Aug. 23, 2007
Jami Kusilek, 12, of Cannon Falls competed at the 2007 National Barrel Horse Association Youth World Championships held in Jackson, Mississippi, July 23-28. This invitation-only event is the largest youth barrel race in the world. Contestants must qualify each year in their states to compete. They came from 45 states, Panama, Canada and France.
In the youth division Jami competed in, there were over 400 participants. Jami rode in two preliminary rounds of competition and then qualified for the finals.
"She made it to the finals on both of her horses 'Belle' and 'Hollywood,'" her mother Teri said. "She ended up placing 13th with Belle and is ranked 64th in the world."
Jami has qualified to run in the youth world in 2006 and 2007 but this is the first year she accepted the invitation. She has been invited to compete with her two horses at the Open World in Augusta, Georgia, but declined because the race is in October and conflicts with school.
__________
Kirsten Volness, a 1998 graduate of Cannon Falls High School, has been awarded a $5,000 commission from the BMI Foundation, headquartered in New York City. The cash award is intended to support Nolness' creation of a new musical work that will premier at Symphony Space in New York City in May of 2008. The piece will be performed by the Colorado Quartet.
Depending upon how busy she is, the piece will likely be completed within four or five months, Kirsten said.
"I am a slow worker; I like to make things right – I'm a perfectionist. There is a lot of editing, balancing out – it has to be just right."
Although Kirsten usually writes classical music for orchestra or choir, she said her work is influenced by other types of music. She also writes electronic and acoustic music. Her compositions have been performed at numerous music festivals by the Ann Arbor Symphony Orchestra, and at concerts throughout the United States, Europe and Australia. She's already worked with a number of highly regarded musicians. 
25 years ago – Aug. 21, 1997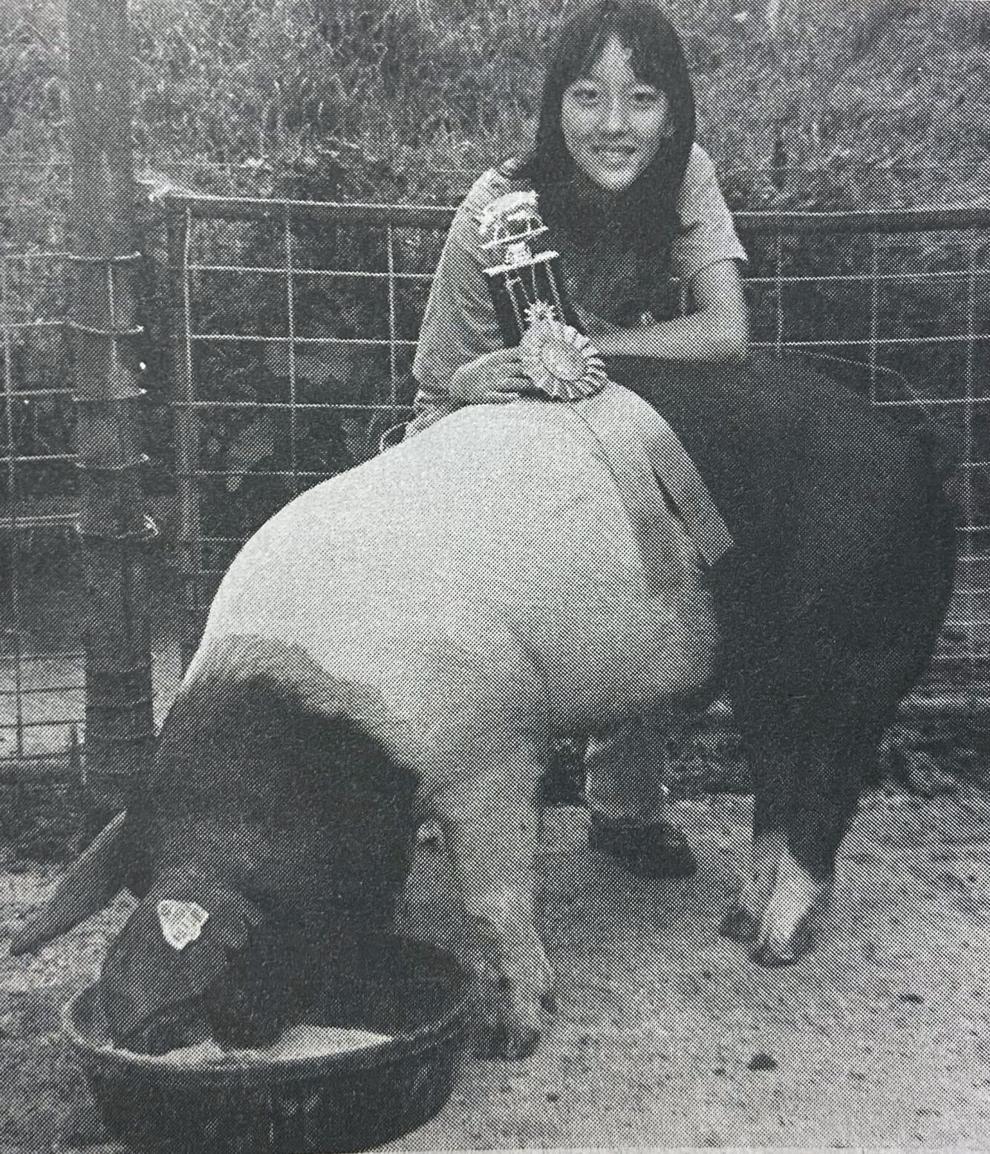 Taiya Getman of the Hi-Prairie Hi Flyers 4-H Club is one very happy 13-year-old. She won three awards at the Goodhue County Fair. Her cross-bred, three-quarters Hampshire, one-quarter Duroc barrow took grand champion and is going to the state fair. In addition, her gilt, a registered purebred Duroc, took reserve champion and her cross-bred York and Hampshire barrow took first in its class.
Taiya is the daughter of Tim and Mary Getman. She got interested in pigs for 4-H because her cousins show pigs and get champions.
"So that's been her goal," Mary said.
The Getmans bought the pigs from Mary's brother Jerry Kenyon who lives in Spencer, Iowa. Interestingly enough, the barrow that got grand champion was the spare, but he went to the fair because the barrow that was supposed to go became lame.
At the auction at the Goodhue County Fair, the Cannonball paid the premium on Taiya's grand champion hog. Taiya boards her hogs at the Steve and Sue Josephson farm and said that Steve helped her by teaching about feeding and showing her hogs. Most of the time Scott Josephson helps Taiya feed the pigs as the pails are very heavy, but they both clean the pens. 
Taiya was quick to point out that her cousin Sharon Kenyon, from Cedar Falls, also helped at the fair getting them ready. Then when Taiya had both a barrow and gilt in the state fair lineup, (Scott was also in the state fair lineup) Sharon helped by showing one of the hogs. Because Taiya is deaf, there's an interpreter in the ring when she shows. At the state fair, the interpreter goes with her the entire time and even sleeps in the 4-H building. 
When Taiya shows "Champ" at the state fair on Aug. 30, most of Mary's family will be there cheering her on. 
"Grandparents, uncles, and cousins drive four hours when Taiya shows," Mary said. "It's kind of a family thing."
50 years ago – Aug. 24, 1972
A total of 51 boys reported for early Cannon Falls high school football drills last week, under head coach Mike McInerny. The squad will hold workouts twice a day until school starts next week, then go to daily drills. 
The squad will scrimmage Belle Plaine at 9:30 Saturday morning, then take on Medford in a scrimmage August 29, in preparation for the opening game on Friday, Sept. 1, against West Concord. The squad will try to improve on last year's record of 3 wins, 4 losses and 1 tie. Returning lettermen are: Tim Banks, Jim Bremer, Doug Erickson, Byron Flom, Jim Hernke, Kevin Lindahl, Mark Loven, Mike McInerny, Jarle Norstad, Robert O'Gorman, Doug Rechtzigel, Dan Smith, Jim Soule, Mark Wambach, Greg Bowe and Bill Rapp.
McInerny said this year's line is a little bigger than in previous years. Wambach and Norstad each will hit 210, and Jim Bremer goes around 200. In the backfield, Jim Soule at quarterback, Mike McInerny at fullback, Byron Flom at halfback should see considerable action. Others expected to vie for starting spots are Doug Erickson, Billy Rapp, Danny Smith, Babe O'Gorman, Ron Grote, Tom Grote and Tom Elias. 
McInerny expects Stewartville, Lake City and Kenyon to be toughest in the Hiawatha Valley Conference. 
75 years ago – Aug. 22, 1947
With the rapid growth of Cannon Falls and the spreading out of the city over an ever widening area, the desirability of erecting street name signs is a matter of importance. The council has recently taken this matter under consideration and is inquiring into the approximate costs of erecting these signs. 
Another matter that will come before the council for consideration in the near future is that of additional sidewalks, curbs and gutters. The building committee of the city hall is now working on plans for the removal of the old city jail and its placement in the new city hall building and prospects are that this will be done within a short time. 
100 years ago – Aug. 25, 1922
Chicken thieves are worth a hundred dollars each, according to the Dakota county commissioners who at their meeting, Aug. 21, offered this reward for the capture and conviction of these law breakers. Suspicious characters will be watched to the limit because a slip at the wrong time will mean some closely observing person will collect $100 for his capture.
During the last year Dakota county has been the scene of many night raids and at a conference called at the Farm Bureau office, July 30, it was decided that this county should be made a decidedly unpeaceful place for this business.