This week's Cannon Falls Beacon Yesteryear column:
15 years ago – Nov. 22, 2007
Cannon Falls High School senior Alexis Montgomery has signed a national letter of intent to play Division I basketball for Drake University. Montgomery is a senior captain for the 2007-2008 Bomber basketball team. She is a three-year starter, two-time HVL all-conference player, 2006-2007 Republican Eagle all-area player of the year, and 2006 MSHSL state tournament all-tournament player.
She is the CFHS career record holder in single-season scoring (673 points), free throw shooting percentage (75%) and field goal shooting percentage (51.5%). Last season she made 209 free throws, breaking the previous state record for free throws made in a single season.
Montgomery has 1,261 career points (14.7 per game average) and 617 rebounds (7.2 per game). In addition, she has 147 career blocks, 122 career assists and 140 career steals. She averaged 23.2 points per game in the 2006-2007 season.
"If it's true that 'genius is one percent inspiration and 99 percent perspiration' then Alex has a touch of 'basketball genius' in her, because she has worked as hard as any player I've ever coached<' Bomber head coach Chuck Benda said. "With that kind of work ethic, I know she'll be able to make a strong contribution to the Drake program."
25 years ago – Nov. 20, 1997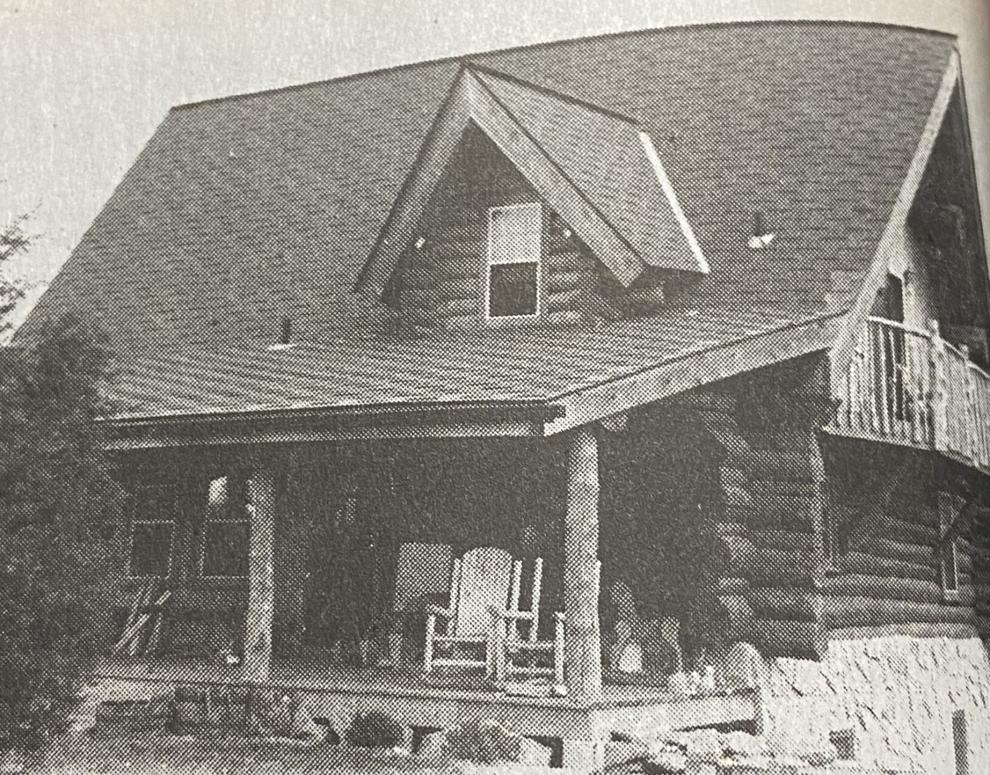 Visitors will step into a rustic country retreat when they go to the Kent and Roxanne Katterjohn log home as part of the annual home tour on Saturday, Dec. 6, to support the Cannon Falls High School senior graduation party. The home is one of five which will be open for tours that day.
The Katterjohn home offers a unique visual treat both outside and inside, thanks in part to the Scandinavian chinkless log construction which previous owners Vic and Jean Proctor used. They turned three semi-loads of logs weighing up to 1,200 pounds each into a 2,100-square-foot home. 
The home is located on 65th Avenue south of Cannon Falls, overlooking the Sogn valley. The wide front porch welcomes visitors to the cozy home. Once inside, light interior walls offer contrast to the mammoth logs seen on the exterior walls. The main floor features 800 square feet of hand-hewn hickory flooring. 
50 years ago – Nov. 23, 1972
The city will purchase 1,000 trees from the state of Minnesota through the efforts of John Hobart, Vo-Ag teacher in the local schools. The city council voted the action Thursday evening at the regular meeting. Cost of the trees will be $15.00. Vo-Ag boys will be used to plan the seedlings.
Dick Mensing of the Park Board was present at the meeting and said that the Board would supervise the planting, somewhere in an area where the 6-inch seedlings would have a chance to grow up enough to survive transplanting onto boulevards and parks. These trees must be used on city owned property. They will arrive in the spring to be planted. 
75 years ago – Nov. 21, 1947
Goodhue county's first serviceman to give his life in World War II found a final resting place last Friday in the community in which he was raised. Funeral services for Evan Benhart Brekken, S1/C, 30-year-old son of Mr. and Mrs. Austin Brekken of the Vangs community, were held at the Vangs cemetery Friday afternoon with full military honors accorded the deceased.
Seaman Brekken was killed in action at Pearl Harbor on that fateful Dec. 7, 1941, when the Japanese made their sneak attack. He entered the United States Naval Training station at Great Lakes, Illinois, on Oct. 17, 1940, was graduated on Nov. 25, 1940, and on Dec. 6 of the same year was transferred to the U.S.S. Pennsylvania at Bremerton, Wash.
He was awarded the Order of the Purple Heart, The American Defense Medal and World War II Victory Medal, posthumously. A memorial service was held in the Vang church on Oct. 25, 1942. Surviving are his parents; four sisters, Mrs. Sanford Sunde of Faribault, Mrs. Verno Reko, Mrs. Harold Lenway and Miss Avis Brekken of Kenyon; five brothers, Austin, Wilfred and Ormenzo of Dennison, Lyle of Faribault and Levi of Portland, Ore. 
100 years ago – Nov. 17, 1922
Last Saturday evening about 20 young people called on Anton Strom to help him celebrate his 33rd birthday. Among those in the party were some of the White Rock choir who sang some songs appropriate for the occasion. At midnight a delicious lunch was served and Mr. Strom's cake was brilliantly lit by 33 candles. Later the company disbanded with the wish that Mr. Strom had many more happy birthdays to come. A box filled with useful articles was presented to him.