There was optimism in the air at the Cannon Rivers Senior Living facility on Feb. 2.
Lines of residents and staff formed in the hallways outside a conference room where employees of Fairview Health Services were administering the first round of the Moderna COVID-19 vaccine. 
After a year of constantly changing guidelines, fear of a virus that was rapidly spreading, and isolating our most vulnerable community members, everyone at Cannon Rivers Living Facility could have an albeit brief sigh of relief that—just maybe—they were on track to return to normalcy. 
Over 100 people, between residents and staff, were vaccinated that day. 
Don Brose, an independent resident who lives with his wife Mary Brose, said he couldn't risk contracting the virus. 
As Mary's primary caregiver, Brose said he needs to make sure he's healthy enough to continue that role. 
Brose is recently recovering from gallbladder surgery and only has 30% use of one kidney. Contracting COVID-19, Brose worries, will likely result in hospitalization or even death. 
Donna Hanson is an independent resident at Cannon Rivers Senior Living facility as well. 
Hanson, like Brose, had no hesitation when it comes to the vaccine. When the shot became available, she wanted it. 
Keeping the residents active
Trying to find things to do during isolation wasn't all that difficult for Brose and Hanson. 
Hanson immediately started making face masks for everyone in the building. As a seamstress for most of her life, Hanson made over 500 masks. 
For Becky Ruddy, the activities director at Cannon Rivers Senior Living, it was a daily challenge to make sure residents were engaged even if the routines were different. 
Ruddy desperately wanted to reach each person everyday in some way. 
First, Ruddy began sending notes with jokes and news to residents with their lunches. Then they were giving out word finds, coloring books, and other activities to keep the residents engaged. 
Ruddy herself would visit every resident twice a week to get a sense of what they were doing and how she could help. 
"It would just break my heart because people would say, 'you're the first person I could talk to today,'" Ruddy said of her early interactions with residents in quarantine. 
As the temperature began to get warmer, families would talk with residents through windows, another heartbreaking occurrence for Ruddy to witness as they would press their hands against the glass, the closest way for them to physically touch.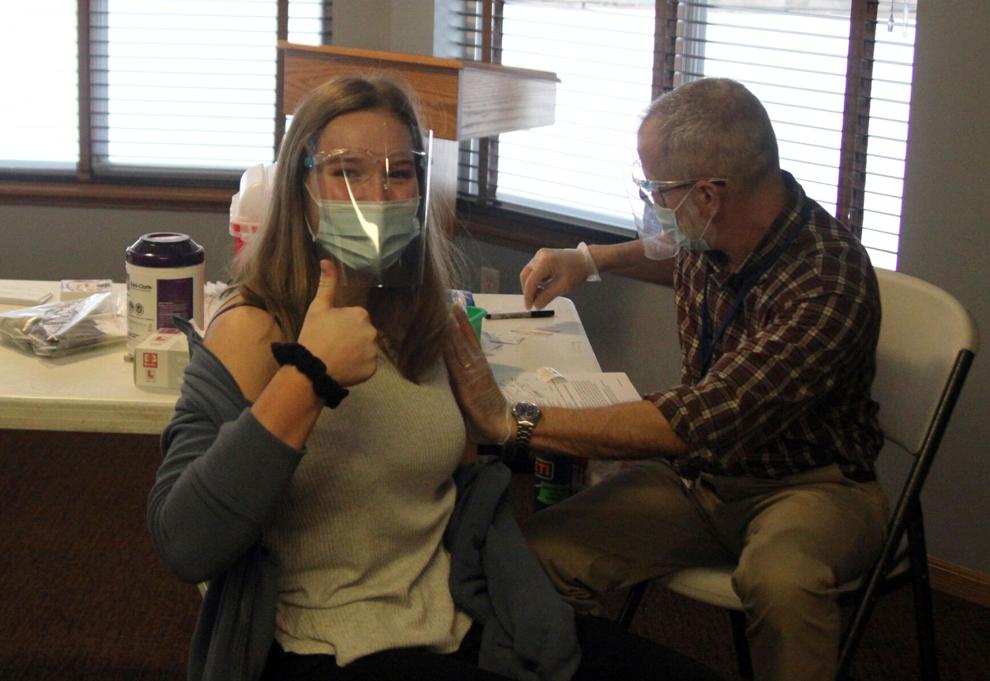 Ruddy and staff would spend time with small groups outside, sometimes just relaxing and other times going on short walks. 
They even reintroduced bingo with small groups on each floor to try and get back to a normal routine. 
Ruddy would like to have Friday afternoon entertainment return to the building and allowing residents to sing, dance and interact when it's appropriate to do so. 
What will you do after both shots?
Seniors have died because of COVID-19 at an alarming rate in the state of Minnesota. According to the Minnesota Department of Health, there have been 3,254 deaths of residents between the ages of 80-94 years. 
What's even more shocking is that the age group has the least amount of reported cases statewide. 
18% of residents between the ages of 80-94 years died after confirming a positive COVID-19 test in Minnesota. 
In Goodhue County alone, 64 people have died from the virus.
The thought of spreading the COVID-19 virus unknowingly petrified Chase Schaefer. 
As a nursing assistant at Cannon Rivers Senior Living and nursing student going to clinicals on a weekly basis, she couldn't imagine accidentally spreading the virus. 
Schaefer was one of the staff members on Feb. 2 to receive the vaccine. 
When the vaccine shots were approved by the federal government for emergency usage, residents were constantly asking Schaefer when they could get one. 
"I hated not having an answer," Schaefer said. "But when we got the date and I could actually tell them, it's funny to think getting a shot could bring someone so much joy."
Like Brose and Hanson, Schaefer didn't hesitate to get the vaccine. While she enjoyed getting to spend so much time socially distancing and quarantining with her mother and brother, she's ready to be able return to a familiar working environment. 
For the Broses and Hanson, they were able to meet with family members during the pandemic. 
The Broses came to the facility in December to live closer to their daughter and son-in-law who live eight miles south. They've kept their distance and masks, but Brose is ready to be able to embrace his family again. 
"It all comes down to how much of a gambler you are," Brose said on why he would recommend the vaccine to people that may be skeptical. "I don't want to gamble with my life. I have a granddaughter who is about seven and I want to be around to see her grow up and watch her participate in some of these events that she's in."
Hanson had a socially distanced lunch in Hastings with a friend, saw one of her daughters in White Bear Lake outside, and even met one of her daughters in a parking lot for a brief time. 
"You adjust to the situation," Hanson said. 
When asked the first thing she'll do when she's received both shots, Hanson quickly answered, saying she'll be visiting her great grandchildren.