Congratulations to our Cannon Valley Senior Center scholarship award winner, Olivia Villarreal. Olivia will be attending NIACC (Northern Iowa) for a nursing degree and continuing on to a university to pursue a bachelor's degree. 
She is striving to earn an advanced degree as a certified nurse anesthetist. With community service as our focus for our scholarship winner, we are excited to offer this new scholarship and help support our youth.
Homemade pies 
Lots of homemade pies from our board members and ice cream was served at our Pie Social Thursday, June 23, at East Side Park. Music from the Cannon Valley Ensemble played in the background, and we had a nice breeze on a beautiful warm summer day. Thanks to all who came and to all that made donations to our center. It's gatherings like these that make Cannon Falls such an endearing place to live. 
For those of you that remember watching "Andy of Mayberry", it always reminds me of those simple happy episodes. We're lucky to have that in real life.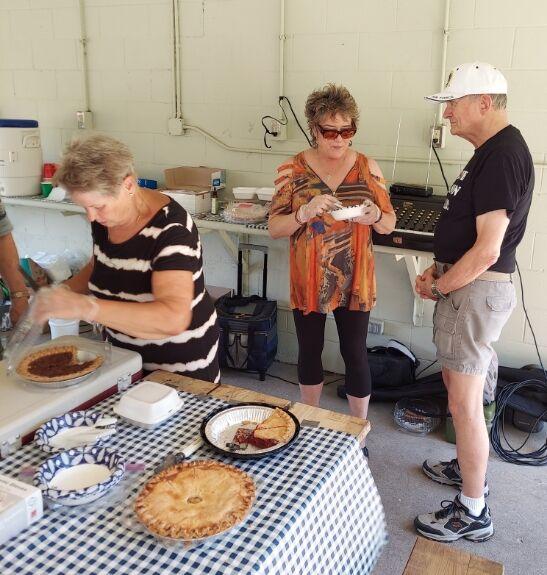 TRIAD meeting
Our TRIAD meeting, July 13 at 10 a.m., will be hosted by St Angar's Church . The topic of discussion will be a Church Security Symposium. The symposium will take place in the St. Ansgar's Lutheran Church Fellowship Hall.
All area churches are invited to send representatives from their congregations to take part in the symposium which will address church security issues and prevention in our local churches.
John Bermel, director of security and emergency management at Carleton College, will address the symposium on the current status of church security in Minnesota and throughout the country and how churches can prepare for any potential problems in this area in the future. 
A roundtable discussion regarding church security will take place after Bermel's presentation.
Please RSVP to John Hobert by email, text or phone by Friday, July 8, if your church would like to participate in the Church Security Symposium. Please indicate how many individuals from your church will be attending. Email: jhobert@frontiernet.net; phone: 507-298-1147; or text: 507-298-1147. There will be no cost for the symposium and refreshments will be provided for those attending. Please contact John for further information on the symposium.
'Footloose tickets'
We have five tickets left to see "Footloose" at the Chanhassen Dinner Theatre Saturday, Aug. 6. Tickets are $100. That includes transportation to the front door of the theater, lunch, gratuity and the performance. With gas prices these days it's a real deal. We leave the Park & Ride in Cannon Falls at 9:30 a.m. Lunch is served at 11 a.m. The performance begins at noon and  ends at 3:30. We should be back in Cannon by 5 p.m. Call Lora Bremer to reserve your seat. 507-263-2136. (Currently there are no COVID-19 restrictions at the Chanhassen.)
Other activities
Visit Cannon Rivers Senior Living, 900 Main St. W, Wednesday June 29, 2-4 p.m. for their open house. The senior center will be there with our information along with other interesting attendees.
"Walking to the Oldies" fitness class with Nicole Miller, will continue through July. The classes are free and everyone is welcome every Tuesday at 9:30 a.m. 
Walk our hallways when the heat is too much or the rain is too hard, Monday-Thursday 9 a.m.-1 p.m.
 We invite you to join our "Lunch Bunch". We will be meeting once a month beginning in July to enjoy a noon meal together. Call Lora if you're interested 507-263-2136
Save the Date. Oct. 29. The Whitesidewalls will be in concert at the Cannon Falls High School sponsored by the Cannon Valley Senior Center. This Rock 'n' Roll Revue has been the Midwest's ultimate 1950s and 1960s doo-wop and rock and roll show band for over 45 years.
Featuring five singers playing multiple instruments, this talented group of musicians from Minnesota and Wisconsin performs for many thousands of people each year.
Purchase your tickets at the senior center office or go online to eventbrite.com. General admission seats are $35, non-refundable. Their music will have you dancing in the aisles.