The 2021 Cannon Falls Bombers volleyball team is boasting a new look in several ways: an experienced, upperclassmen-heavy roster; an aggressive offense that takes advantage of their height; and lofty goals with the confidence/maturity to back them up. 
"I have a lot of seniors and juniors on the floor this year," said head coach Melissa Huseth. "Obviously I have a lot of talent coming up, but this is a big year for our upperclassmen and that makes a difference. Not only are they good players, but they have that maturity, that confidence to play hard. If you have a young crew, even if they're super talented, they just maybe don't have quite the head game that the older players have. And I think that makes a difference."
The Bombers went 6-6 during last fall's shortened season and are returning their top three hitters from that campaign -- sophomore Madison Burr and seniors Halle Hustad and Lauren Johnson -- along with senior setter Jaci Winchell who will continue to run the offense. Also returning are sophomore Karsyn Winchell, junior Elle Lind, senior Ashlyn Sjoquist and junior Kyra Schoenfelder. Huseth said that perhaps the team's greatest strength is its depth.
"It's hard to point out one or two players because they all do such a great job. There's nobody who is more important than the next person on this team, they all have a vital role," she said. "In practice yesterday, I just looked at them at the end and said 'you guys, we're just solid. The 15 of you are solid, if somebody is having a tough time out there, I can look at my bench and say get in, and the play is not going to change'."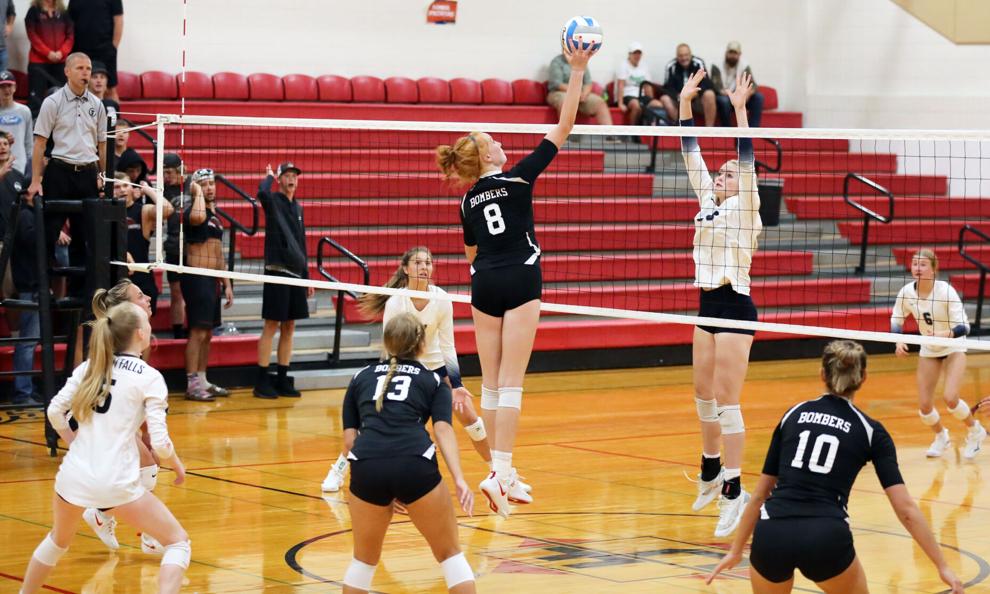 Between a new offense and all that returning experience, the Bombers have set the highest of goals for this fall.
"We have big goals, we want to make it to state this year," Huseth said. "I'm not saying we don't have a huge road ahead of us, we're going to take it one match at a time and get better every match. But that's their dream, that's what they want, they want a banner on the wall, which we don't have yet, and they want that trip. I think they're hungry enough for it, they have a lot of work ahead of them, but they can do it."
That new offense puts the Bombers in some uncomfortable situations, but also allows them to take advantage of having height and a stable of hitters.
"I am trying a different kind of offense this year, I don't know if you noticed but I've got some tall girls this year, so I guess I'm going away a little from a traditional offense for volleyball," Huseth explained. "So it's been fun to see, the girls have to learn to play more than one position, but I didn't do that last year, it's new this year. I'm really liking it. I just saw the talent that we had, you can't do it every year, especially in a smaller town, you don't necessarily get those tall girls that you can run this offense."
Cannon Falls is off to a strong start with two wins over Rochester Century and Jordan to start the season. They hosted the Rochester Century Panthers on Thursday and after a rough first set, re-grouped and took the next three sets to win 3-1 (12-25, 25-12, 25-17, 25-16). Then on Saturday, they traveled to Hopkins for the Breakdown Side-Out Classic where they swept all three sets against Jordan 25-12, 25-17, 25-17. Jaci Winchell led the team with 27 assists in the win over Jordan while eight different players had at least one kill in a balanced attack for the Bombers.
Cannon Falls will host Rochester Lourdes on Thursday, Sept. 2.