Randolph falls to Hayfield on Dig Pink Night
A volleyball match took placein Randolph Thursday, but that was far from the most important part of the night. It was Dig Pink Night and the Rocket community raised more than $34,000 for the Side-Out Foundation, the most in the town's history. 
Dig Pink is a nation-wide event where volleyball teams and their communities raise money for breast cancer research and treatments through the Side-Out Foundation. 
Despite being a town of just under 500 people, Randolph is regularly one of the top fundraising schools in the country for Side-Out. In fact, in 2017 the town was the top-fundraiser in the United States. 
On top of the money raised for the Side-Out Foundation, the Rockets supported one of their own as the senior class raised $5,000 for Jen Piehl, the Community Spotlight honoree who was diagnosed with cancer this past summer and is currently undergoing treatment. 
After the match, the Randolph senior girls shaved the heads of 10 senior boys and cut the hair of one girl. Piehl, a hairdresser, had the honor of shaving off senior wide receiver Nathan Weckop's luscious locks.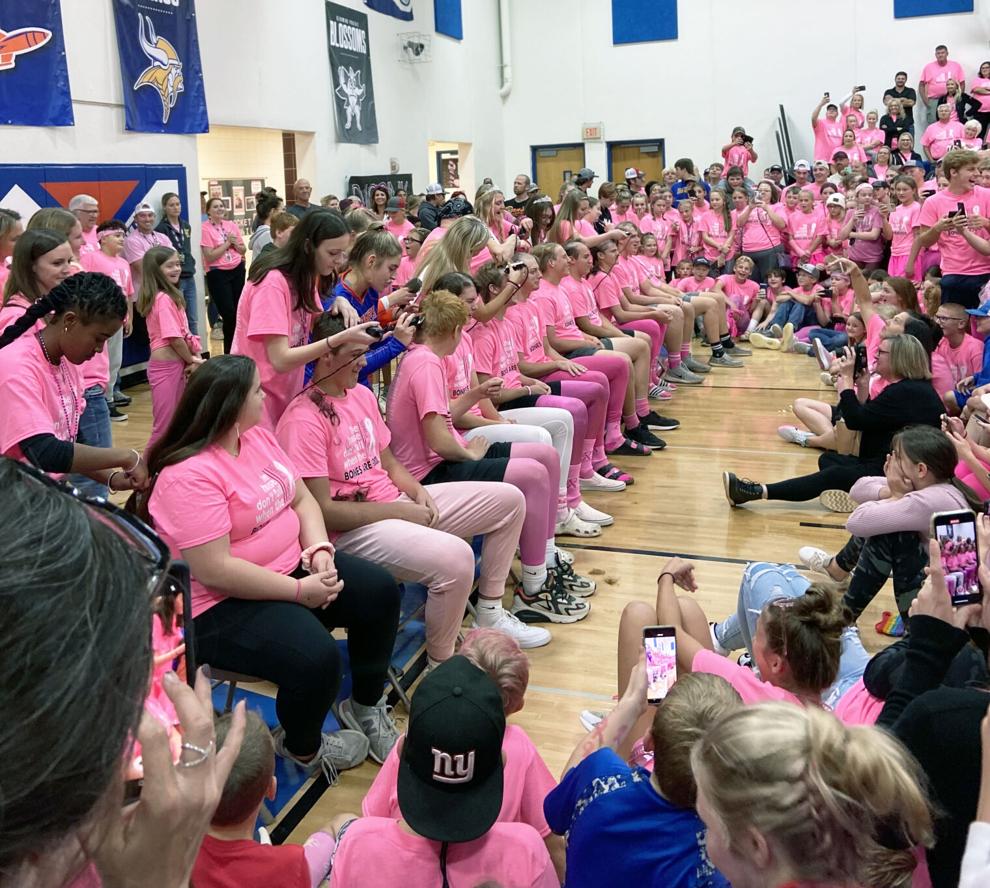 Senior volleyball player Macy Green said that support is what makes Randolph special.
"Dig Pink is one of the best things we do here, everyone from everywhere comes here," she said. "Our school, we take pride in it, we really love it. A lot of kids in our school have had cancer, a lot of families around here have had cancer also, everyone comes together. Randolph is a town where everyone comes together."
The Randolph Rockets volleyball team faced off against Hayfield for their homecoming match and lost 3-1. Hundreds of people packed into Randolph's small gym for the match and festivities afterwards, creating an electric environment. The crowd and student section was just as raucous for a point early on in the first set as they were when the fourth set came down to the wire. 
The Rockets got off to a rough start, dropping the first set 25-5. However, the course-corrected in the second set and won 25-23. The final two sets were close with Hayfield winning the third and fourth 25-20 and 25-22 for a 3-1 victory.
Randolph is a young team with just two seniors in the varsity lineup. This has led to some up-and-down play. Green said that sometimes they fall behind and cannot dig out of the hole. It looked like that happened during the first set, but the Rockets bounced back.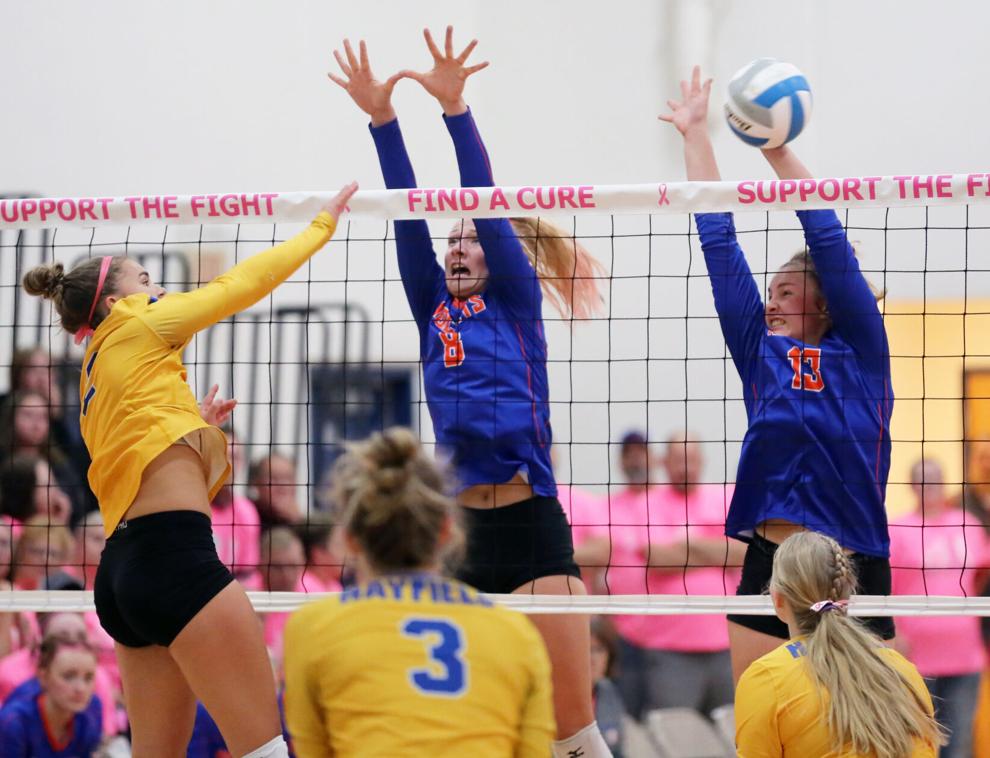 "Our second set we kind of pushed each other up a bit more and had confidence in ourselves," she said. "We wanted to fight, we were ready."
Homecoming 2021 for Randolph comes to a close on Friday with a pep fest at 2 p.m., football game against undefeated Rushford-Peterson at 7 p.m. followed by the Homecoming Dance from 9-11 p.m. Green said she is enjoying spending her last homecoming with her classmates, especially after last year.
"It's sad, my last year," she said. "It's really sad this year, but we're having fun and we're making the best of it because last year was COVID times and I'm grateful that we get to have this."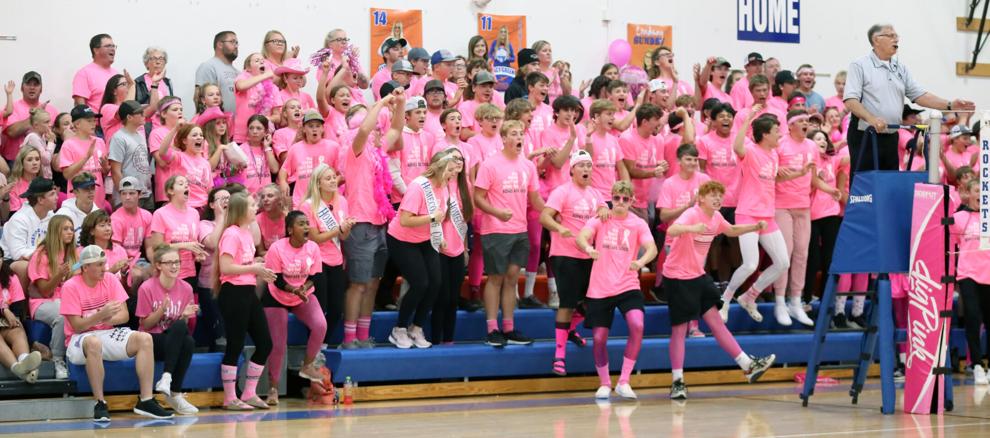 Randolph volleyball is now 1-12 overall with the loss to Hayfield and are on a 12-match losing streak since winning their first match of the season against Maple River. Green said they are still learning to play together and need to communicate better, but is encouraged by some of their recent matches, including against Hayfield.
Last Monday, Sept. 27, the Rockets went to Rushford-Peterson and lost 25-20, 25-9, 25-22. Head coach Marie Jacob said some communication glitches in the second set sunk them after a competitive first set but they were able to come back strong in the third. Corah Meier had 11 assists, Carly Kimmes 5 digs, Paige Ford racked up 9 kills, 2 blocks and 4 digs while Anna Olsen had 7 kills, 8 assists and 5 digs.
Randolph then hosted Bethlehem Academy -- the No. 7-ranked team in Class A -- on September 30 and lost 25-9, 25-13, 25-14. Ford had 6 kills and 3 blocks, Meier 8 assists, Olsen 2 kills, 7 assists, 6 digs and 2 blocks; Lydia Coonrod 8 digs, Kimmes 7 digs and Kaillie Sorem 6 kills.
Then this past weekend, the Rockets played in the St. Clair Tournament where they split with Madelia 15-25, 25-21; lost to Sleepy Eye St. Mary's 25-15, 25-21; lost to St. Peter 25-16, 25-21 and fell to Mountain Lake in a close match 25-12, 23-25, 12-5.
Randolph hosts Southland on Monday, goes to Janesville-Waldorf-Pemberton on Tuesday, faces Kenyon-Wanamingo at home on Thursday and then plays in a tournament at Goodhue on Saturday in a busy week for the Rockets.